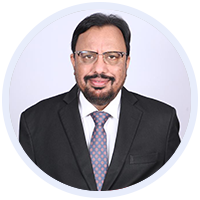 Mr. Gurmeet Singh is holding the position of Director General of Federation of Indian Petroleum Industry (FIPI) with effect from 1st January, 2022. A Petroleum industry veteran, Mr. Singh holds close to four decades of wide and rich experience of the petroleum industry.
Prior to joining FIPI, he was member of the esteemed Board of Indian Oil Corporation Limited as Director (Marketing) and headed various strategic initiatives under his leadership. He also held additional responsibilities as Chairman of Indian Oil Mauritius Limited and Chairman of Indian Oil Middle East, Dubai, UAE.
As Director (Marketing) of IndianOil Mr. Singh ensured energy security by ensuring product availability with best logistic practices. He was instrumental in expansion of the required infrastructure of storage, distribution and marketing of all grades of petroleum products to meet challenging cross-sectional business customers and demands of different verticals and geographies.
He immensely contributed to the path breaking initiative of PMUY (Pradhan Mantri Ujjwala Yojana) to support the national goal of taking LPG to remotest of areas with an aim to reach LPG to each and every household. PMUY has been highly acclaimed nationally and internationally for its mammoth reach and impact. His vision brought in impactful technology and digitalization improvements in operating systems, business processes and delivery mechanisms like Retail Outlet Automation, VTS, e-transactions to name a few.
As Head of Marketing Division of IndianOil, He led a team of 15000 plus strong work and brought in HR initiatives of Learning and Development, welfare schemes and health care specially during the COVID pandemic. Under his leadership, IndianOil was recipient of several accolades and awards such as featuring as of the top brands in Brand Finance and Brandz ranking, Supply chain and Logistics Excellence award, SERVO and INDANE being conferred the super brand status, Global HR excellence award and lot more.
He has also been business head of critical verticals like Engineering and Projects, State Head and Retail Head of large territories like Rajasthan, Punjab, Himachal Pradesh and J&K. He played a stellar role as Executive Director (Engineering and Projects) heading several Engineering initiatives and leading several path-breaking projects, known for his skills in astute project management.
A Mechanical Engineer from Punjab Engineering College, Chandigarh, Mr. Singh is widely travelled and has been part of several national and international energy related projects and events such as CERAWeek, World LPG Conference, Aviation Conference.