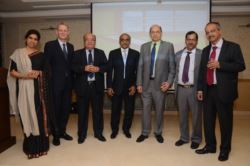 Group Photograph. (L-R) Dr. Preeti Jain, Joint Director(Economic Policy and Planning), PetroFed; Mr. Spencer Dale, Group Chief Economist, BP; Dr. R. K. Malhotra, Director General, PetroFed; Shri Sashi Mukundan, Regional President and Head of Country, BP Group; Shri R Bahl, Director(Finance, Taxation and Legal), PetroFed; S. Rath, Director(E&P), PetroFed; Shri Rajeev Kumar, Director(Regulatory Affairs), BP.
1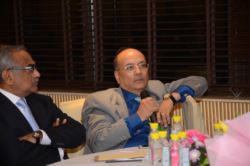 Shri N K Verma, MD, OVL raising a query.
2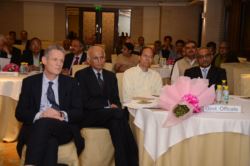 A section of participants .
3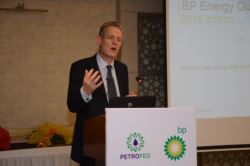 Mr. Spencer Dale making his presentation.
4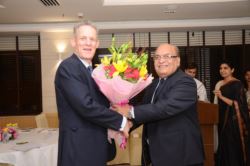 Mr. Spencer Dale, BP's Chief Economist being greeted with a bouquet of flowers by Dr. R. K. Malhotra,, Director General PetroFed.
Previous
Next
09-March-2016
BP Energy Outlook 2016 in India
PetroFed organized the launch of the latest edition of the BP Energy Outlook in India in knowledge partnership with BP, a member company of PetroFed.
Over the time the BP Energy Outlook has guided the Oil & Gas industry players in identifying the future strategy paths. Since 2008, BP has been associated with PetroFed for releasing the BP Energy Outlook in India.
Continuing with that tradition, Mr. Spencer Dale, BP's Chief Economist presented the Energy Outlook to leaders of oil and gas Industry and other stakeholders on March 9, 2016 in New Delhi. The presentation was well received and applauded by the leaders of Oil and Gas Industry, government official and other stakeholders.
Click here to view Biodata and presentations