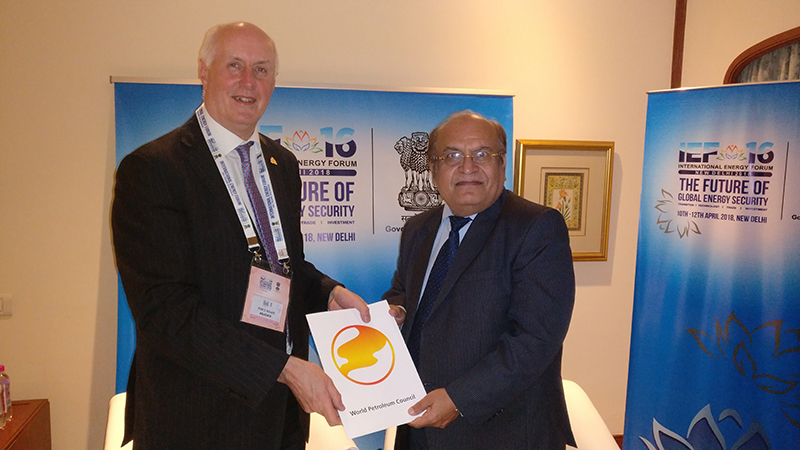 Dr. R. K. Malhotra, Director General, FIPI delivered the welcome address.
1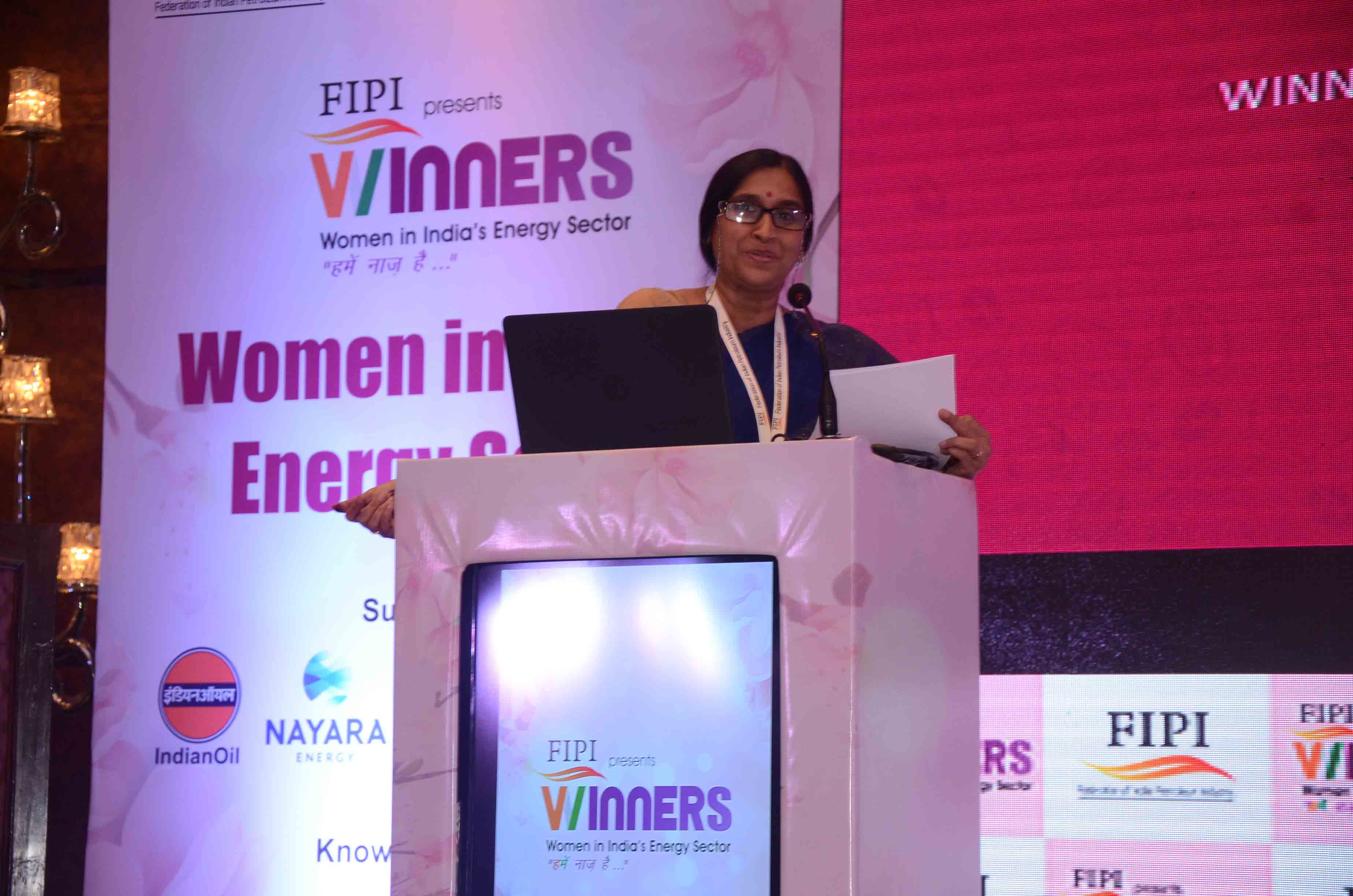 Dr. Alka Mittal, Director-HR, ONGC addressed the conference by highlighting under representation of women at corporate level
2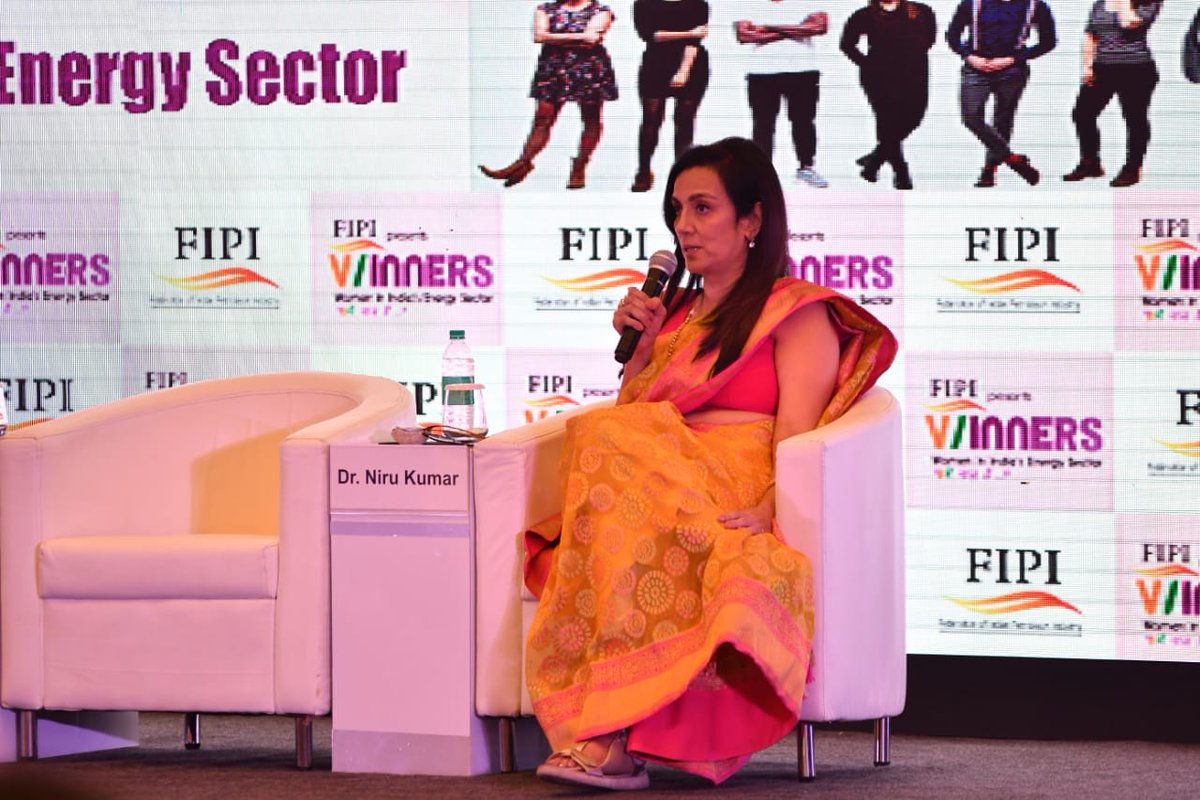 Dr Niru Kumar,Gender Diversity Consultant & Trainer spoke on Gender Diversity & it's business case perspective while illustrating importance of gender intelligence & digital fluency which can help bridge gender gap.
3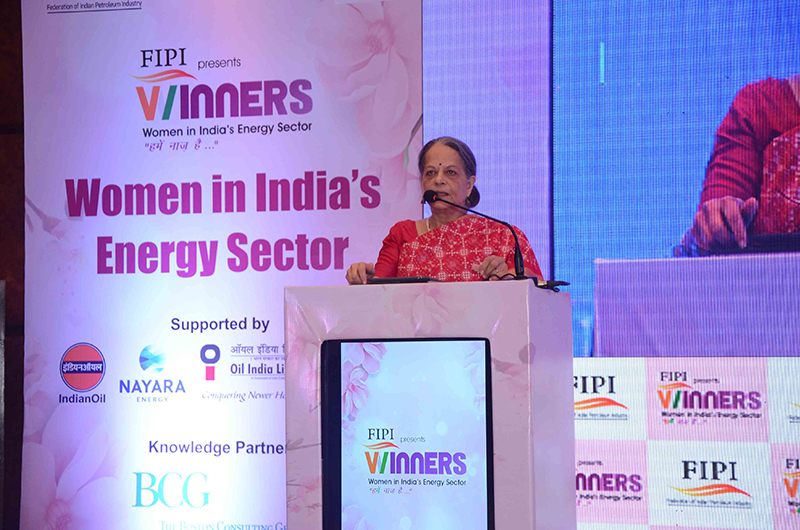 Wise words from Nishi Vasudeva first female CMD, HPCL "You can't afford to wait to be asked, you have to raise your hand and put yourself forward. Challenge yourself!"
4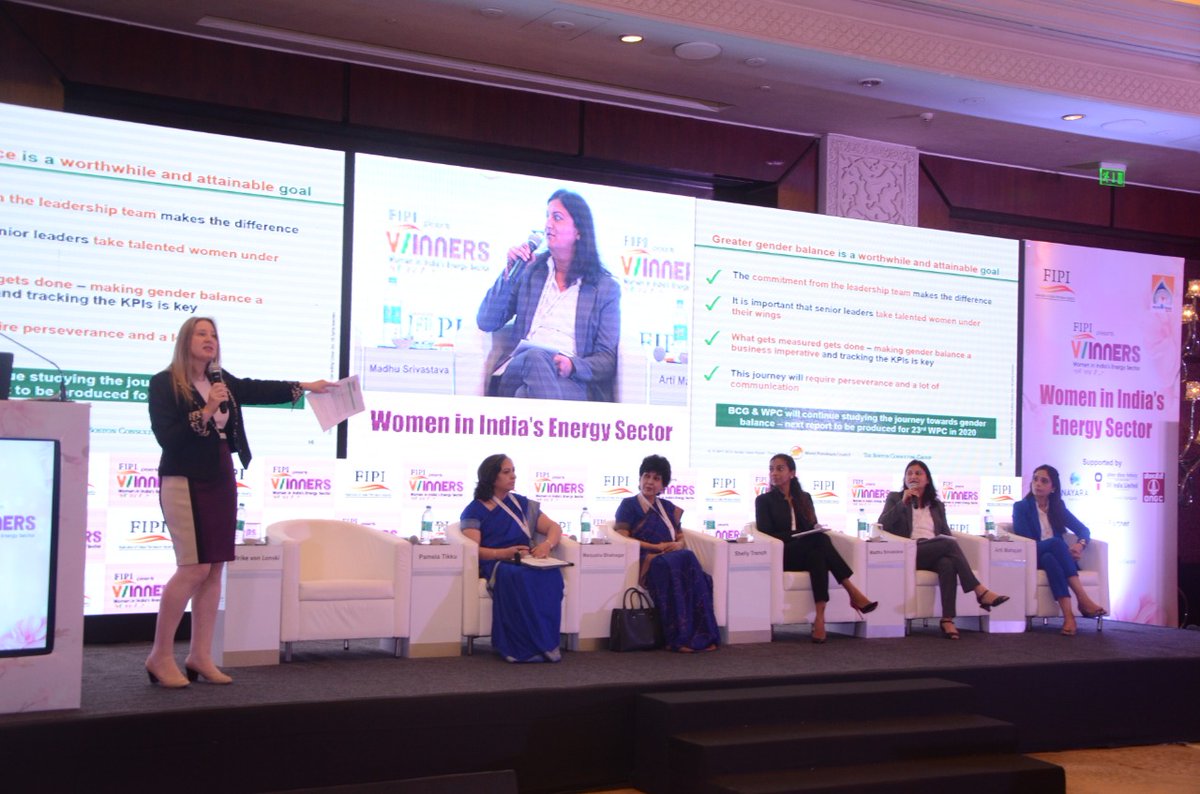 In the panel discussion on 'Role of women in energy sector', Importance of adequate utilization of opportunities by women was discussed by women professionals in prominent positions.
5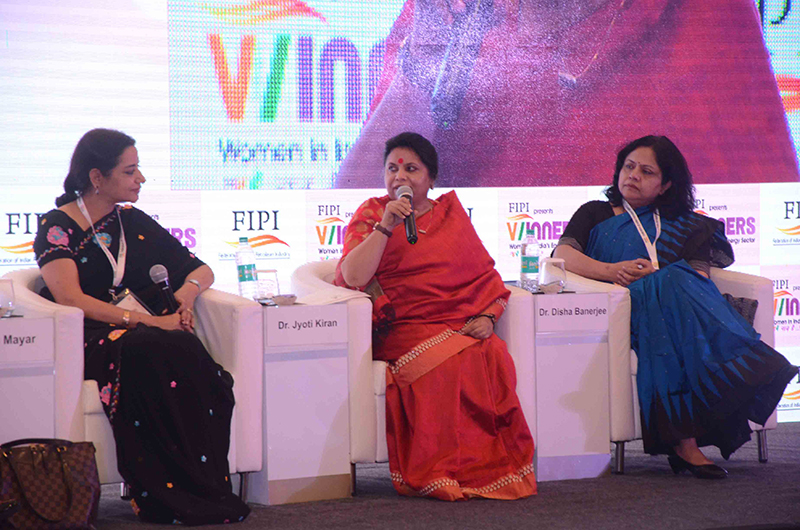 Dr. Jyoti Kiran, Chairperson, Rajasthan State Finance Commission shared her empowering thoughts on working women as a professional in a high ranking role during a panel discussion in 'Women who inspire'
6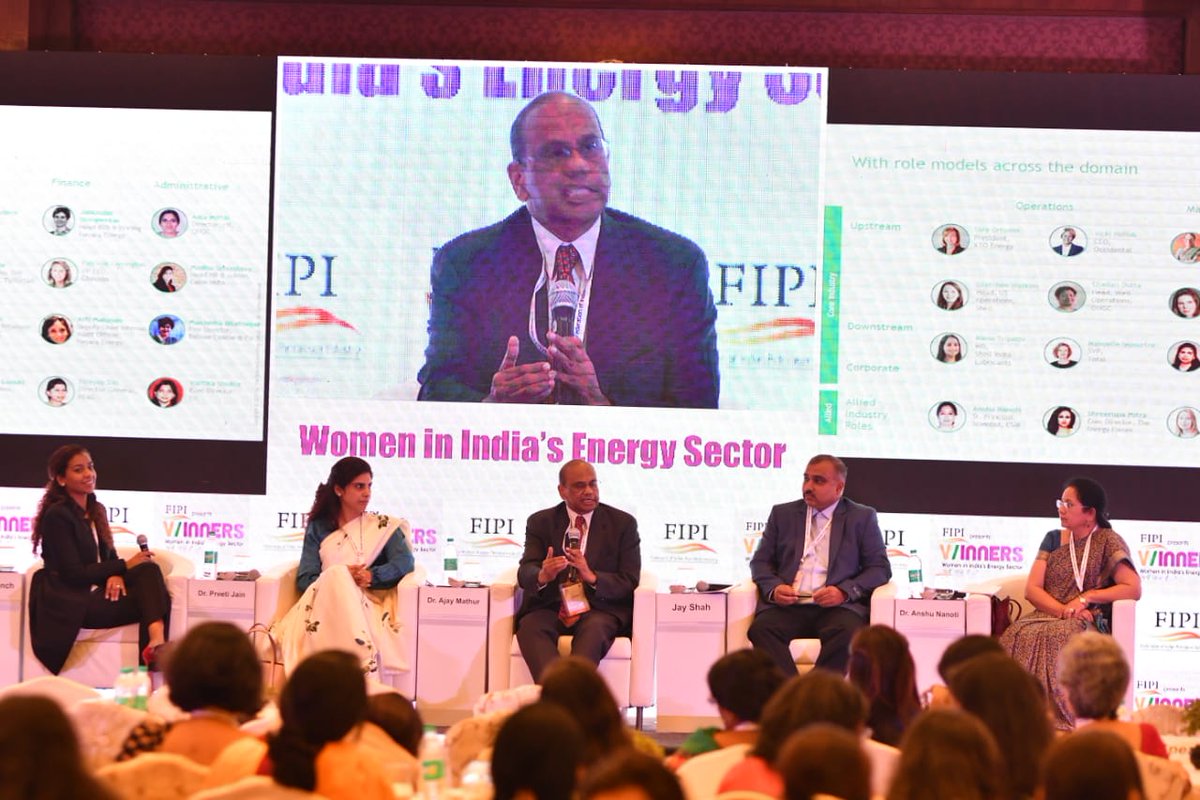 Industry stalwarts, discussed career opportunities for women in energy sector & how they can be encouraged to enter & participate as professionals in India's energy ecosystem during panel discussion moderated by Ms Shelly Trench
7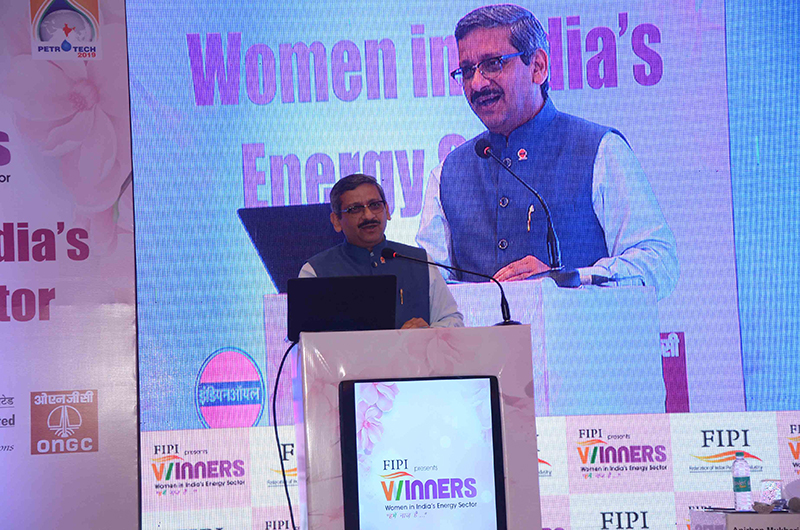 "Gender equality is one of the most important aspects of World development agenda" - Mr. Ranjan Kumar Mohapatra, Director (HR), IOCL
8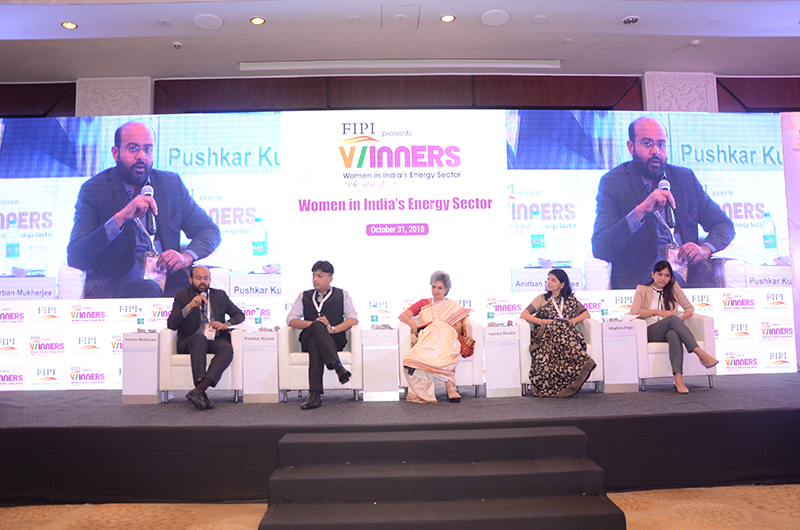 Concluding session moderated by Mr. Anirban Mukherjee, partner & MD, Energy practice BCG, ended with a panel discussion on policy measures and interventions required for increased role of women in energy sector.
9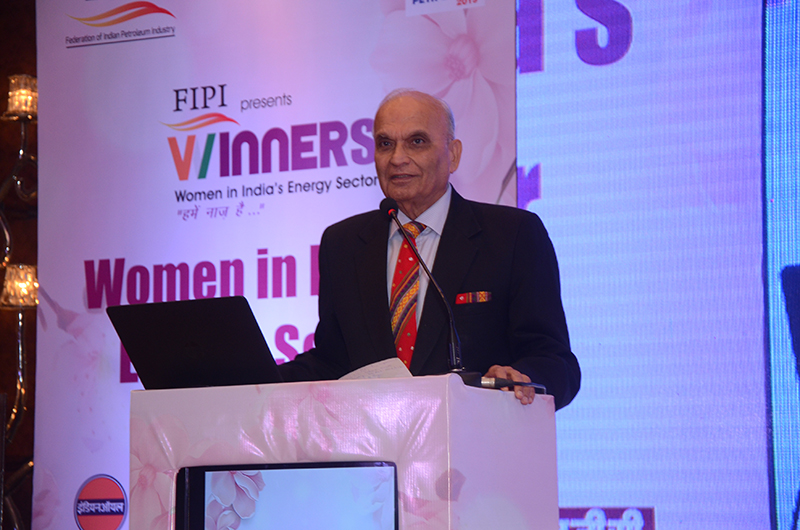 Mr. M. A. Pathan, former chairman, IOCL delivered the valedictory address at the closing session.
Previous
Next
31-October-2018
Workshop on "WINNERS: Women in India's Energy Sector"
Federation of Indian Petroleum Industry (FIPI) along with the Knowledge Partner the Boston Consulting Group (BCG) organised a one-day workshop on "WINNERS: Women in India's Energy Sector" on October 31, 2018. The workshop was attended by about 300 participants.
Dr R. K. Malholtra, Director General, FIPI presented welcome note to the attendees in the conference by re-instating PM Narendra Modi's view that multitasking is a key in managerial world. He said that Indian women have been multitasking since ages and their efforts have contributed a lot in bringing our country at this level especially rural women. Dr. Malhotra added that there's a large participation of women in sectors such as service and hospitality. However, energy sector remains to be least gender diverse. He recognised social and cultural reservations affecting participation of Indian women in this area. He also mentioned various steps that could help increase the women workforce. Dr. Malhotra on his ending note empahised that we need to educate women, employ them in dignified jobs and empower them with conducive environment through policy intervention to help them go further and faster.
Dr. Alka Mittal, Director-HR, ONGC addressed the conference by highlighting under representation of women at corporate level. She presented business case for women through skills they owe naturally. She said, pain points such as security, legal protection, biases at workplace if addressed can help increasing gender diversity. She mentioned countries such as Israel, Norway and Sweden where women workforce increased after changes in regulatory framework. This was observed in India too after Company's Act 2013. Dr. Alka shared ONGC's views and best practices in maintaining gender diversity. Sharing her experiences she mentioned that although female workforce at entry level are the highest, it keeps declining at mid management and almost diminishes at top management level. According to it, she said interventions are required to retain female talent. Dr. Alka also shared that women do enjoy and perform in challenging roles of technical fields. Hence, infrastructure, security, mentorship and development programmes are some of the ways to retain talent. She ended her session with the thought that it is time that we progress by letting go gender related perceptions and normalise it with gender neutral policies and evaluating parameters.
Dr. Niru Kumar, Gender Diversity Consultant & Trainer at Pepsico, Vodafone, E&Y started the session by emphasising on the need to change lens of perception. She spoke about psychological perspective on gender diversity. Dr. Kumar illustrated various psychological aspects and stigmas that impact professional life of women. She emphasised that while world is moving towards created facilitating diversity at micro level by being inclusive of disability and LGBT, India still is an underperformer since we have not been able to sustain growth of women workforce. According to her, it is unconscious conditioning of both men and women that needs re-programming. She also highlighted that it is necessary to balance professional, personal, mental and physical health for women. She shared an analysis where the productivity was seen highest in well lead diverse team in comparison of homogenous team and poorly lead diverse team have the lowest productivity. Dr. Kumar ended her engaging session by sharing her personal journey of professional and personal life which was very encouraging for the participants.
Ms. Nishi Vasudeva, Former CMD, HPCL reiterated that women are untapped reservoir for industry and more so for energy sector. She said it is commendable that women workforce in energy has increased and it is heartening to see them on field jobs. She said women need to be encouraged at the young age at entry level. Thus, mentorship should be introduced formally in organisations. She said women should be confident to identify and use the opportunity available to them, which goes a long way. She also talked about knowing beyond designated roles, learning and asking for feedback which helps in self-improvisation. Ms. Vasudeva also encouraged women to embrace tough assignments to get noted and be a trusted leader. She mentioned organisational support is much more crucial and should be imbibed in way of thinking. She said as women professionals we are at par, and it is about taking and grabbing an opportunity in different roles to reach up corporate ladder.
Ms. Lonski provided a brief background on the status of women workforce with statistics and research findings. Ms. Bhatnagar emphasised on need to conduct gender audit and policy interventions to support career. Ms. Trench talked about necessity of facilities and infrastructure for women at workplace. Introducing corporate level gender neutral policies such as sponsorship programme, and parental policies for child care can help support women workforce. Ms. Srivastava shared Cairn's objective of reaching 33% women workforce by 2020. Sensitisation with gender intelligence workshop, anchoring/sponsorship programmes and maintaining gender diversity in committees and groups within organisations are some of the steps to create a gender diverse workforce. Ms. Mahajan shared that with success stories and visibility of women at leading role can encourage women to continue with professional growth. She also emphasised that women should make use of women centric policy available at corporate level.
Ms. Bansal initiated the discussion quoting 'if we think we can, we can'. She said it is imperative that we adapt with learnings from other sectors. Ms Mayar emphasised on importance of strong diversity and inclusion policies that are helpful in creating diverse workforce. Ms. Kiran spoke about unrecognised efforts of rural women. She also recommended that need to change financial architecture and policy narrative to create and support diversity and balance it. Ms. Banerjee highlighted need of gender neutral policy and visible success stories of women to help address gender diversity issues. On parting note, panellist Ms. Mayar said that while men are evaluated on potential, women are evaluated on performance, thus it is imperative that perceptions change. Ms. Kiran said that women should value their struggle and learn from the journey. Ms Banerjee encouraged audience to visualise success, identify goals and seek a mentor to succeed in professional front.
Ms. Trench started the session by elaborating on India's strong presence globally and education system in STEM. Ms. Jain said instead of waiting for women to reach seniority to bring them on the board, the criteria should focus on talent. She added that adaptability, vigility and proactiveness can help women go a long way in their career. Ms. Jain also recommended that professionals must have a career map visualised and try achieving each of their goal with skills, aspiration and mentoring. Mr. Shah said, that women should take a leap in their role with accountability and delivery. Ms. Nanoti said that gender diverse selection panel in screening processes can help reduce any biasedness in the processes. Mr. Mathur being a member in PM's Council on Climate change elaborated his experience that women entrepreneurs aren't able to get loans as easily from financing agencies. This issue was handled with background guarantee for women. Such kind of strategic thinking is required to empower women. In addition, there's a need for reskilling, need for risk assessment to have established systems be more inclusive.
Mr. Mohapatra in his session highlighted that gender equality is one of the most important aspects of World development agenda. Currently, there's a need to enhance fair governance as females in leadership roles especially in PSU is very low. The framework should be such that it brings a sense of belongingness to diverse groups. Elaborating on various skills women owes, he said there's a dearth of opportunities to women.
Mr Mukherjee set up the context that there's an entire continuum of issues such as parity, sexual harassment at work place, termination on pregnancy, seeking information on pregnancy existing at the workplace. There's a need to set up conducive environment for women to help mothers join back workforce, have a mandate on board representation of women and focus on imparting specific skill development. Mr. Kumar shared that we are at a place, that even though there are women centric policies in place, at times they are not fruitful due to lack of sensitisation amongst the workforce. Hence, to make such policies effective, capacity building for managers and management is required. Ms. Shingwekar emphasised that a lot needs to be done to make policy framework effective so that it is able to achieve its intent. Ms. Shukla said that we need to break stereotype. It is leadership who has to make conscious efforts to make women centric policies achieve its potential especially in energy sector. Ms. Pegu added that policies are evolving. Barriers are not organisation specific but go beyond organisation to society and country level. It was also discussed by the panel that there's a need to educate, employ the female work force. With grooming and sponsorship, help them achieve leadership potential.
A quiz was held on Women in Energy and was participated by quite enthusiastically and in huge numbers. The winners of the quiz ranged from professionals to students and were awarded by Mr. MA Pathan, Former Chairman, IOCL, Mr. Anil Razdan, Former Secretary – Power and Additional Secretary, Ministry of Petroleum and Natural Gas and Dr. R.K Malhotra, Director General, Federation of Indian Petroleum Industry.
Mr. M.A Pathan, Former Chairman, IOCL recounted his early days of career and commended that India has evolved in terms of its women workforce. He further said, They are not only doing desk jobs but are now taking up challenging roles on field, working in shifts with full zeal and enthusiasm. He adds, a lot is being taken up at policy level such as mandate to have women representation at board. There's Human Resource taskforce of 7 public sector oil and gas companies working on five areas that is source (supply side of talent), develop (leadership development), perform (performance management), affiliate (engagement and aligning different set of employees) and HR excellence (transforming HR functions as process custodian) to retain talent. Adopting best practices from other companies that can befit employees is also amongst other areas on which the task force is working. Mr Pathan ended his session by emphasising on gender equality and providing more opportunities for women in India's energy sector.