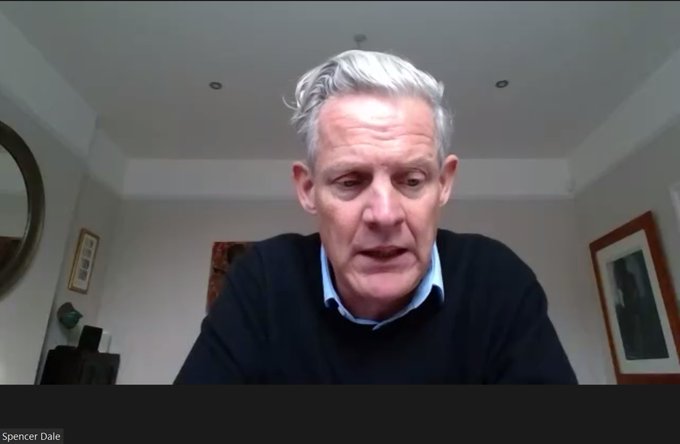 Mr. Spencer Dale, Group Chief Economist, bp shared a detailed presentation on current and emerging trends in the global energy industry. His insights indicate an increasing competition within and across fuels.
1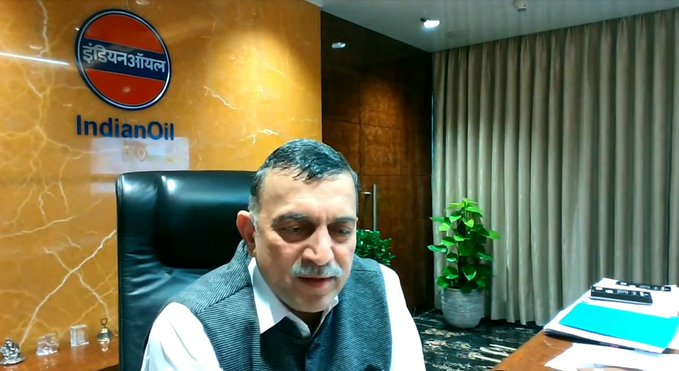 "Oil & Gas will continue to play a significant role in Indian energy mix. However, share of new & alternate energy sources, such as renewables will continue to rise. Natural Gas is also expected to grow continuously" - Shri S.M. Vaidya, Chairman,FIPI & IOCL.
2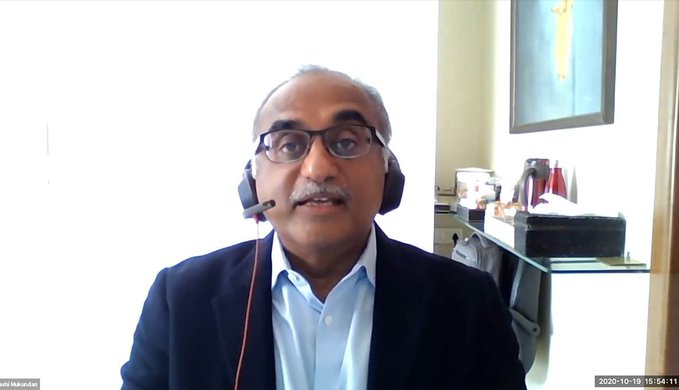 Shri Sashi Mukundan, President, bp India and Senior Vice President, bp group delivered the vote of thanks to distinguished guests & energy experts for sharing their valuable insights at the BP Energy Outlook 2020.
Previous
Next
19-October-2020
BP Energy Outlook
Continuing the long tradition, the Federation of Indian Petroleum Industry (FIPI) joined hands with BP India to organize BP Energy Outlook – 2020 on 19 October, 2020. In its past editions, the outlook was unveiled in a physical gathering with participation limited to CXOs of oil and gas companies. Due to the ongoing COVID-19 pandemic, this year the event was organized on a virtual platform, allowing a much broader participation from across the energy industry in India.
The welcome address at the occasion was provided by Dr R K Malhotra, Director General (DG), FIPI. Dr Malhotra kicked off the proceedings of the day by extending a very warm welcome to all the participants joining at the webinar. He underlined that over the last few days the number of COVID cases in the country has witnessed a sharp decline. The impact of the falling number of cases is already visible in the Indian economy. Quoting a recent ICRA report, he highlighted that sale of cars, motor cycles and railway traffic has already shown a marked improvement over the last few months after contracting for straight four months. The global oil and gas sector was among the worst affected due to the pandemic. There was significant demand destruction and the oil prices touched their historic low in April this year. In this regard, India was no different either, however, the sector has shown clear signs of recovery since September. He hoped that in the near future, the economy will revive and the energy industry will continue to witness the growth it has been seeing over the last few years. He was confident that in the long run the betterment in living standards and aspiration of people will continue to drive the energy demand even further. Emphasizing the importance of the BP energy outlook, Dr Malhotra underlined that the report has acted as a guide for the global energy industry and helped prepare to tackle the uncertainties of the future.
Mr Spencer Dale, Group Chief Economist, BP Plc., made a detailed presentation on the BP Energy Outlook 2020. At the outset, he informed the participants that the outlook assess' the future possibilities under three broad scenarios namely:

Rapid Scenario: It shows a sharp increase in carbon prices along with other supportive Government policies towards climate change

Net zero scenario: It shows that in addition to climate policies and carbon prices there is change in societal behavior which led to further fall in Carbon emissions.

Business as Usual (BAU) Scenario: It assumes that policy, technology and societal behavior continue to improve in a similar way as past.
Carbon Emissions
In the Rapid scenario Carbon emissions fall by about 70 per cent by 2050. In the net zero scenario, CO2 emissions are almost eliminated by 2050 while the BAU scenario predicts that CO2 emissions will peak by mid 2020s, however, little further progress is made by 2050 and carbon emissions fall only by 10 per cent by end of 2050. Mr Dale highlighted that while these scenarios do not predict the future, they most certainly indicate the range of uncertainties over the next 20-30 years.
Carbon emission from Energy Usage for India
In rapid scenario Carbon emissions in India fall by around 50 per cent, which is less than the global average of 70 per cent and is consistent with the way we look at global de-carbonization. Developed countries will decarbonize more quickly, emerging economies will see a less rapid growth in Carbon emission. In BAU scenario carbon emissions continue to rise by 90 per cent reflecting the pace of growth in energy demand. In this scenario fossil fuel continue to dominate India's fuel mix in the future.
Changing Trend of Global Energy Demand
The share of fossil fuels in the Primary energy mix is set to decline in all three scenarios. Oil, gas and coal account for almost 85 per cent of the primary energy mix presently. This share declines to 65-20 per cent by 2050. Surprisingly, the absolute demand for fossil fuels also declines over the next 30 years in all three scenarios. This is entirely unprecedented as never has the demand for any fuel in the history has declined on a sustained basis. The share of coal and oil has declined but absolute demand has continued to increase. In all three scenarios, the demand for fossil fuels declined for 30 years.
Fall in the share of fossil fuels will be offset by the increasing share of Renewable Energy (RE). RE such as wind, solar and biofuels will be leading this revolution. RE account for 5 per cent of the energy mix today, RE share is set to reach between 20-60 per cent in all the three scenarios. In all three scenarios the pace at which RE penetrates the energy system is faster than any other fuel in the history. All three of these scenarios, the pace at which RE gains share in the PEM is quicker than any other fuel in the history.
All three scenarios predict that the share of electricity in the energy mix will continue to steadily grow over the next 30 years.
Changing Structure of Global Energy System
In the past, the global energy market was dominated by one or two fuels. In first half of the 20th century, the global energy system was entirely dominated by coal. As the share of coal declined the role of oil increased in the energy mix. In rapid scenario, world is set to see a far more diverse fuel mix. Gas, coal, wind, solar power and other non-fossil fuels will also have a significant presence in the PEM by 2050. Fuel mix will be increasingly driven by customer choice rather than fuel availability. Greater diversity in fuel will require greater integration across fuels. Energy companies will also provide integrated services. Energy markets will get more localized as electricity cannot be transported over long distances. It is also expected that the global energy market will get increasingly competitive. Over the next 20-30 years, conventional fossil fuels will have to compete against natural gas, wind solar, nuclear power. Also increasing competition within fuels particularly oil, natural gas and coal as producers will compete to ensure that their resources are preferred in the backdrop of contracting demand. This will trigger a shift in economic rent away from upstream energy producers. As downstream energy companies provide consumers with choice, the economic rent will shift towards consumers.
Outlook for Oil Demand
Oil demand has already fallen drastically in 2020 as result of the pandemic. As the spread of pandemic subsides oil demand is expected to recover. However, in rapid and net zero scenario, the oil demand will never get back to its pre-COVID levels. Impact of pandemic has brought the peak of oil demand earlier than expected in all two scenarios. In the rapid scenario oil demand falls to 50 Mmbblpd by 2050 while in net zero it contracts to 25 Mmbblpd. With majority of the fall in oil demand will come from increase in efficiency and increase in electrification of road transportation.

Oil demand is resilient in BAU scenario, where oil demand reaches back to its pre-COVID levels remaining around 100 Mmbblpd by 2030 and gradually falling in the later part till 2050. India oil demand, in all three scenarios, recovers after COVID and reaching between 6-7 Mmbblpd by 2030.
Oil demand gradually declines from there in the rapid and net zero scenario. In rapid scenario oil demand reached close to 5 Mmbblpd by 2050 while in net zero scenario it reaches closed to 3 Mmbblpd. In BAU scenario, oil demand in India continues to increase reaching around 10 Mmbblpd by 2050.
Outlook for Natural Gas
Global outlook for natural gas is more resilient than for oil. It's more pronounced in the rapid scenario. In this scenario natural gas consumption increases in short term but gradually comes down to the current volume by 2050. Natural gas will gain significantly more share of the energy mix in emerging economies globally.
In India, Natural gas in the rapid scenario is growing far more quickly. This reflects the key role natural gas will play in decarbonizing the Indian economy. This trend is true for many other emerging markets as well. The key to reduce carbon levels in the Indian economy is to reduce the levels of coal. Energy demand in India will continue to grow strongly in India. RE will grow at an average rate of 11 per cent annually. But strong growth of RE is not sufficient to meet the growth in new energy demand and replace coal. Hence in addition to strong growth in renewable energy India will also see a strong growth in gas. Increasing share of natural gas will help Indian economy and many other emerging economies decarbonize. Natural gas imports in India is expected increase to 60 percent by 2050 in BAU scenario while almost 80 per cent in the rapid scenario.
Growth in Renewable Energy
RE grows very rapidly in all three of the scenarios, driven by significant growth in wind and solar power. This growth of RE will be supported by the falling costs in RE. Cost of solar energy is expected to fall by 60 per cent or upwards in all three scenarios by 2050.
In India RE capacity has been growing at 10-11 GW annually. In rapid and net zero scenario, this increase will reach more than 50 GW by the second half of 2020.
De-carbonization of Power Sector in India
In the rapid scenario, there is a significant fall in usage of coal for power generation. Falling from 75 per cent today to close to 10 per cent by 2050. This will be offset by the rise in wind and solar power generation. India will also see a significant increase in the usage of gas. The pace at which power demand in India continues to grow, you still need an increase in coal power generation which is equivalent to needing almost 50 new coal fired power generators in next 30 years. To avoid any increase in coal fired power generation, one option will be to accelerate the growth of wind and solar even further. Since India is already seeing rapid growth in wind and solar, accelerating the pace further will be difficult to do. Alternatively, gas fired power generation presents a viable alternative to replace the coal based power generation. To avoid any increase in coal fired power generation, India will have to move the shift to gas a little sooner even compared to the rapid scenario.
Mr S M Vaidya, Chairman, IndianOil and FIPI delivering his concluding remark for the session thanked Mr Spencer Dale for his detailed presentation. He highlighted that while accurate predictions cannot be made about the future scenarios due to a large number of variables and disruptions, the BP outlook has served as a guiding light for the entire industry in formulating strategies. The impact of the ongoing pandemic is clearly visible on the economy, trade and the oil and gas sector. The BP Energy outlook takes into account the impact of COVID and showcases three possible scenarios emerging in the future. This will help the oil and gas companies to navigate through the potential uncertainties surrounding energy transition. Today the energy space is changing fast with RE, digital technologies, energy efficiency and the imperative to address climate change requirements. Energy mix will get increasingly diverse in the future driven by the customer choice. For the oil and gas sector COVID has resulted in production cuts, fall in prices, investment cuts and asset restructuring while on the other hand RE has emerged more resilient from the pandemic in terms of demand and investment cuts. In India, while oil and gas will have a strong presence, RE will also continue to rise. Natural gas is expected to grow at a much higher rate than other fossil fuels in the country.
Mr Sashi Mukundan, President, BP India and Senior Vice President, BP group, delivering his vote of thanks highlighted the importance of this year's BP energy outlook in the backdrop of the COVID crisis.
The session proved extremely successful. Especially Mr Dale's presentation triggered a very fruitful Q&A session and brought out some deep insights about the global and the Indian energy sector. The session witnessed an overwhelming participation from more than 200 industry experts, academia, Ministry officials and industry members. A general inquisitiveness was noticed among the participants for the next edition of the BP Energy Outlook, that will account for the overall impact of the pandemic on the energy sector in general and oil and gas sector in particular.
Click here to view presentation