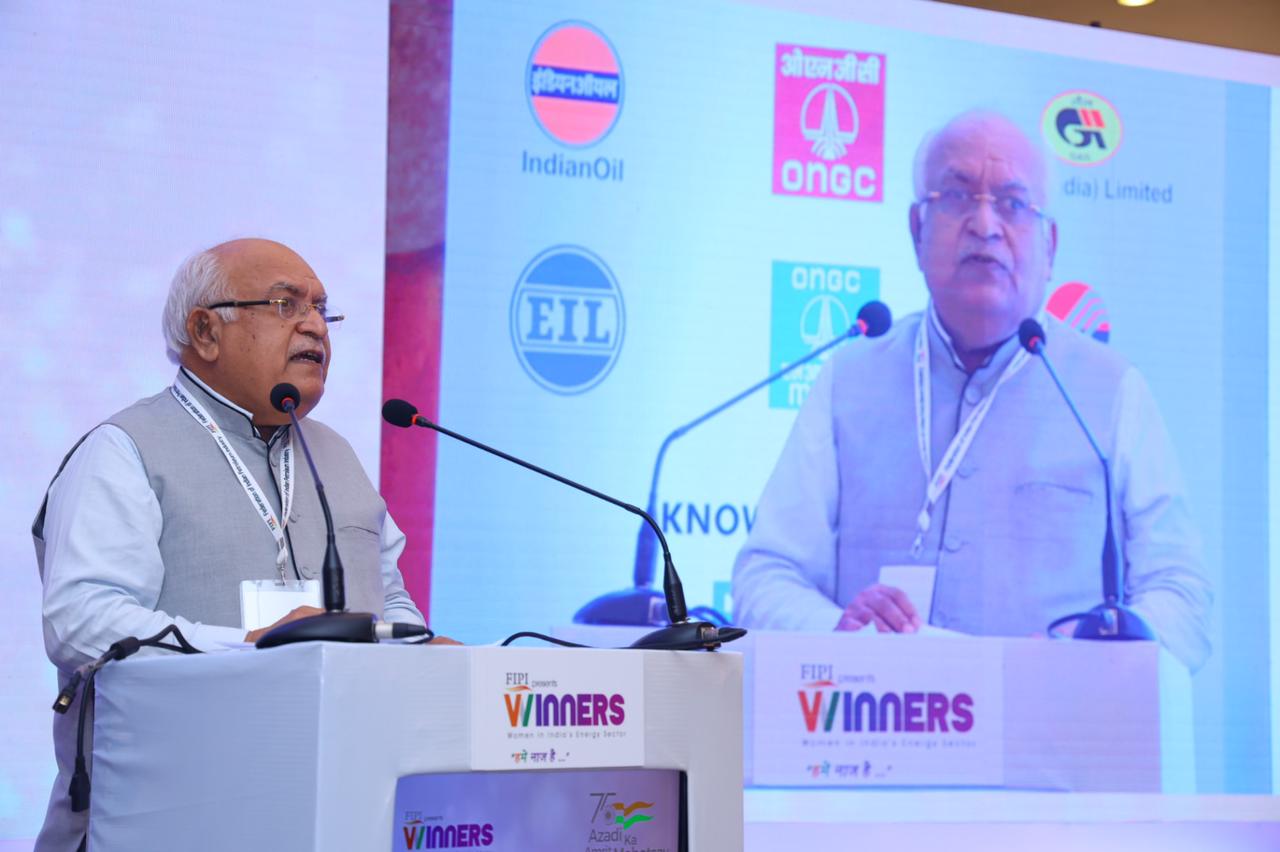 "PM Ujjwala Yojana allowed more time for productive activities to women that contribute to economic growth of the country." - Dr. R.K. Malhotra, Director General, FIPI
.
1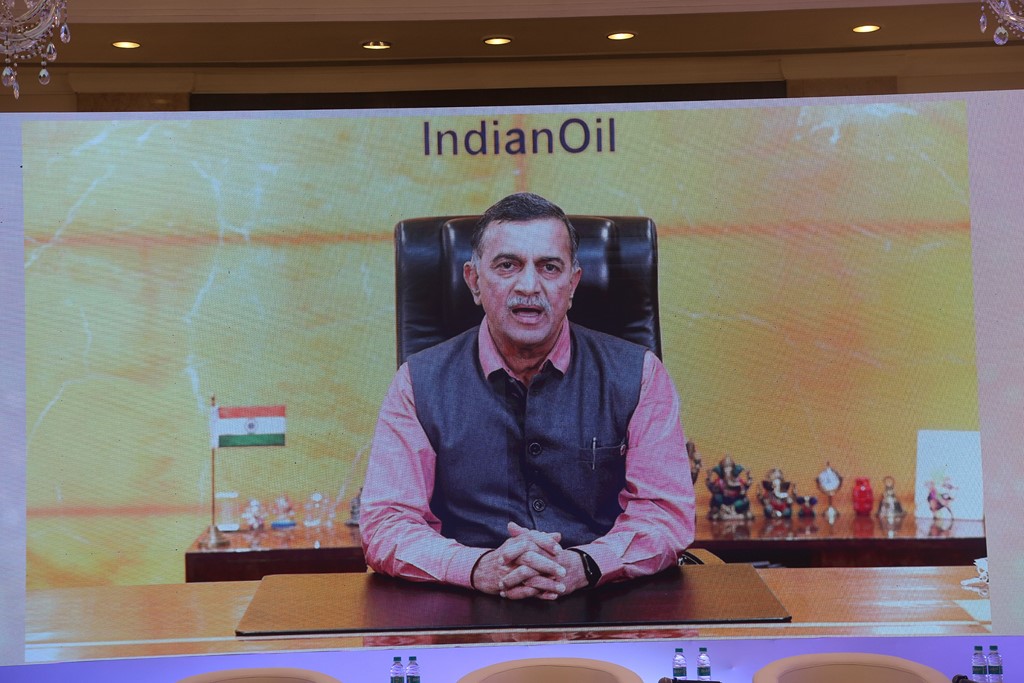 Shri S.M. Vaidya, Chairman, IOCL & Chairman, FIPI delivered a special address, highlighting the role of women across the entire value-chain of Indian energy sector.
2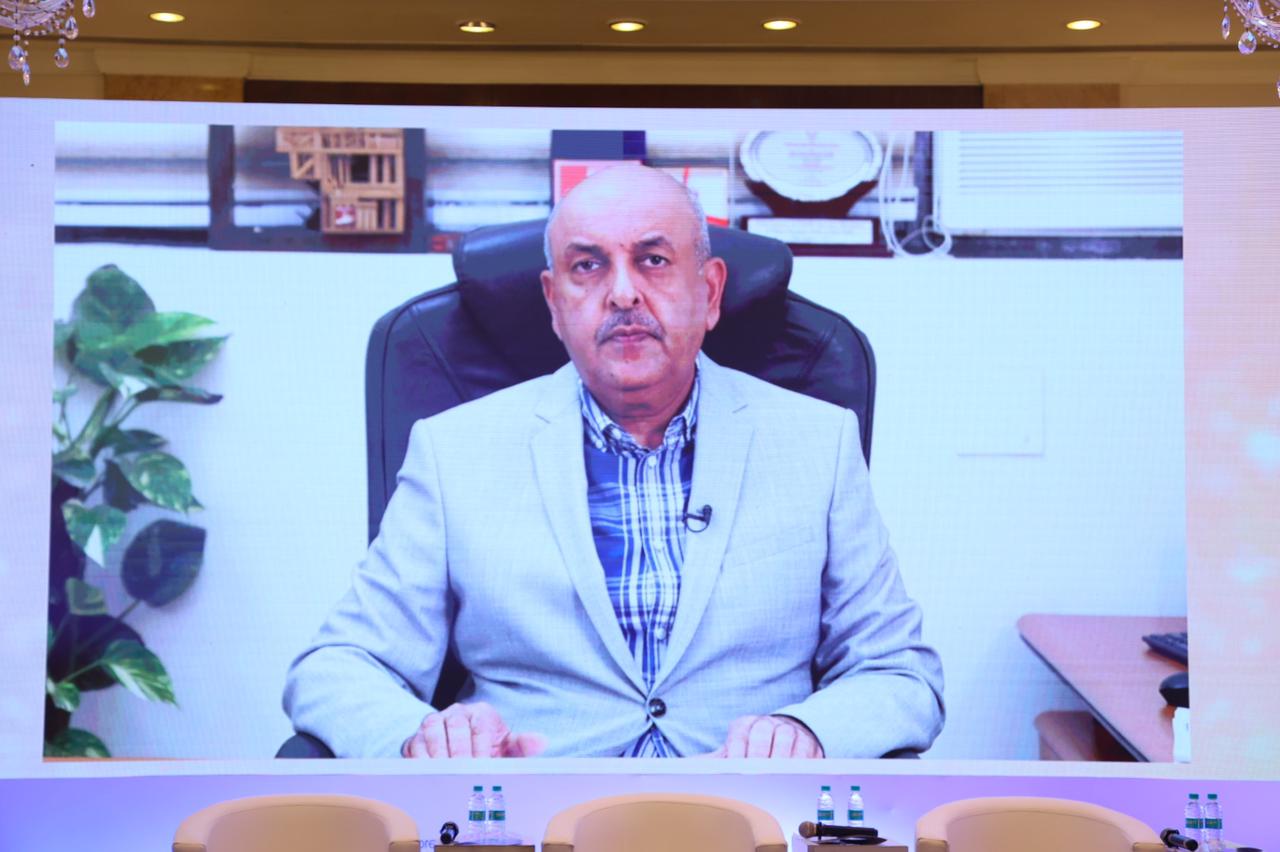 "Women-centric schemes gain greater traction, they are directly connected to energy sector, especially through cooking gas. PMUK became a huge success as it was centered around women." - Shri Tarun Kapoor, Secretary, MoP&NG.
3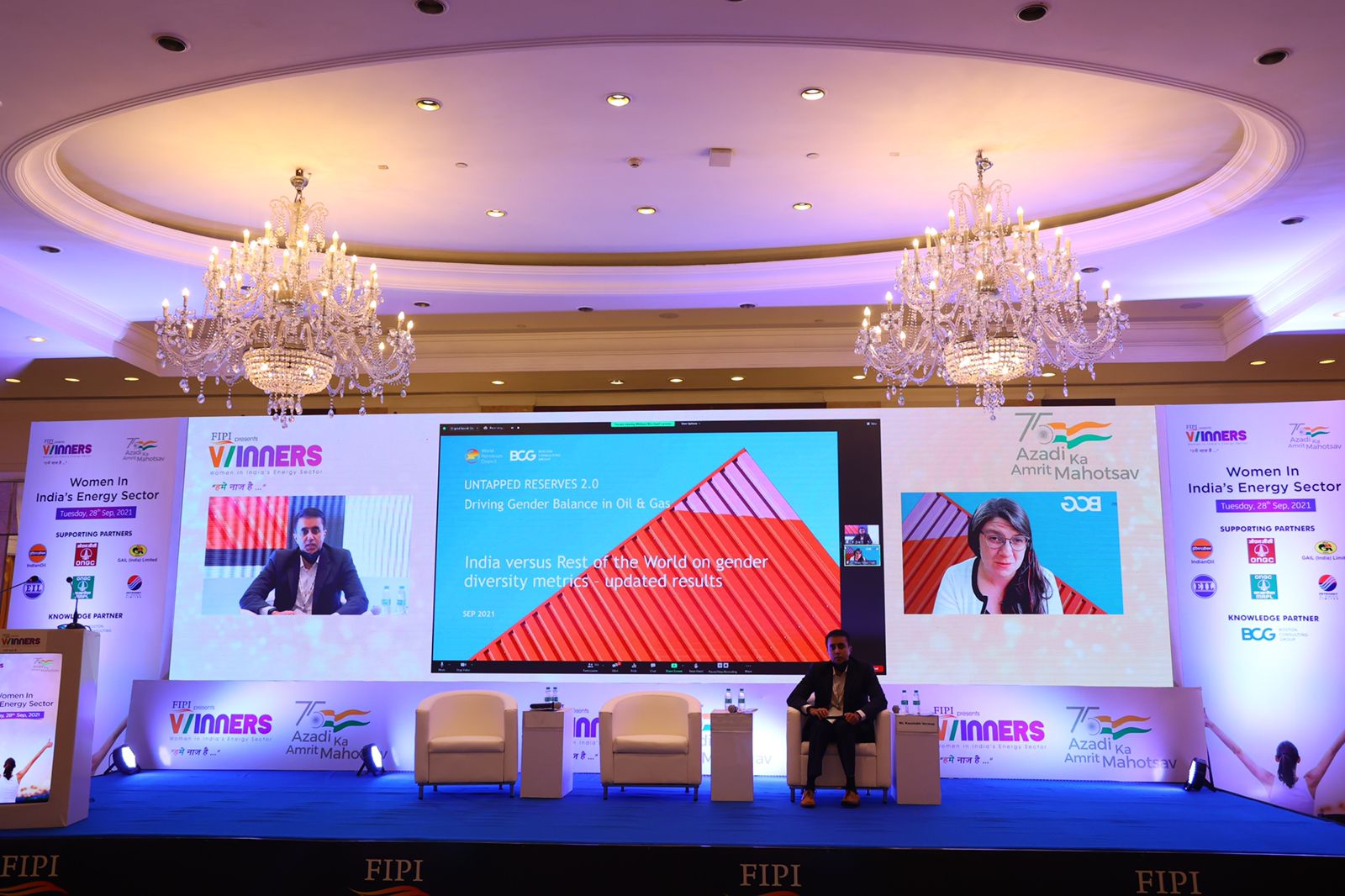 Ms. Whitney Merchant, Partner, BCG shared the details of WPC Untapped Reserves 2.0 survey with Kaustubh Verma, MD & CV Partner, BCG, highlighting the opportunities & scope for improving involvement of women in the Oil & Gas sector.
4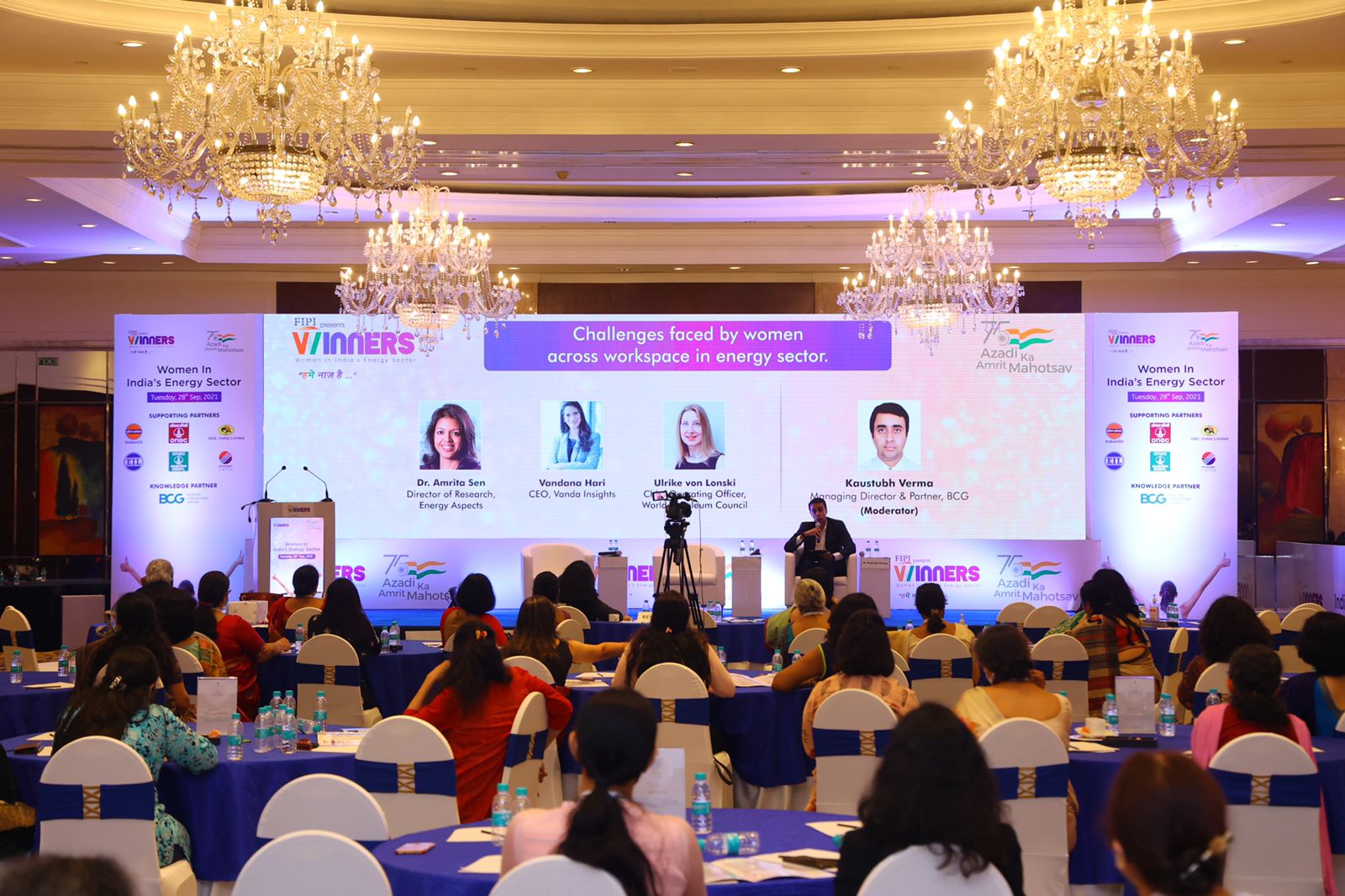 Ms. Ulrike von Lonski, COO, World Petroleum Council; Ms. Amrita Sen, Dir. of Research, Energy Aspects & Ms. Vandana Hari, CEO, Vanda Insights discuss the opportunities and challenges for women in Indian energy sector highlighted by WPC Untapped Reserves 2.0 survey.
5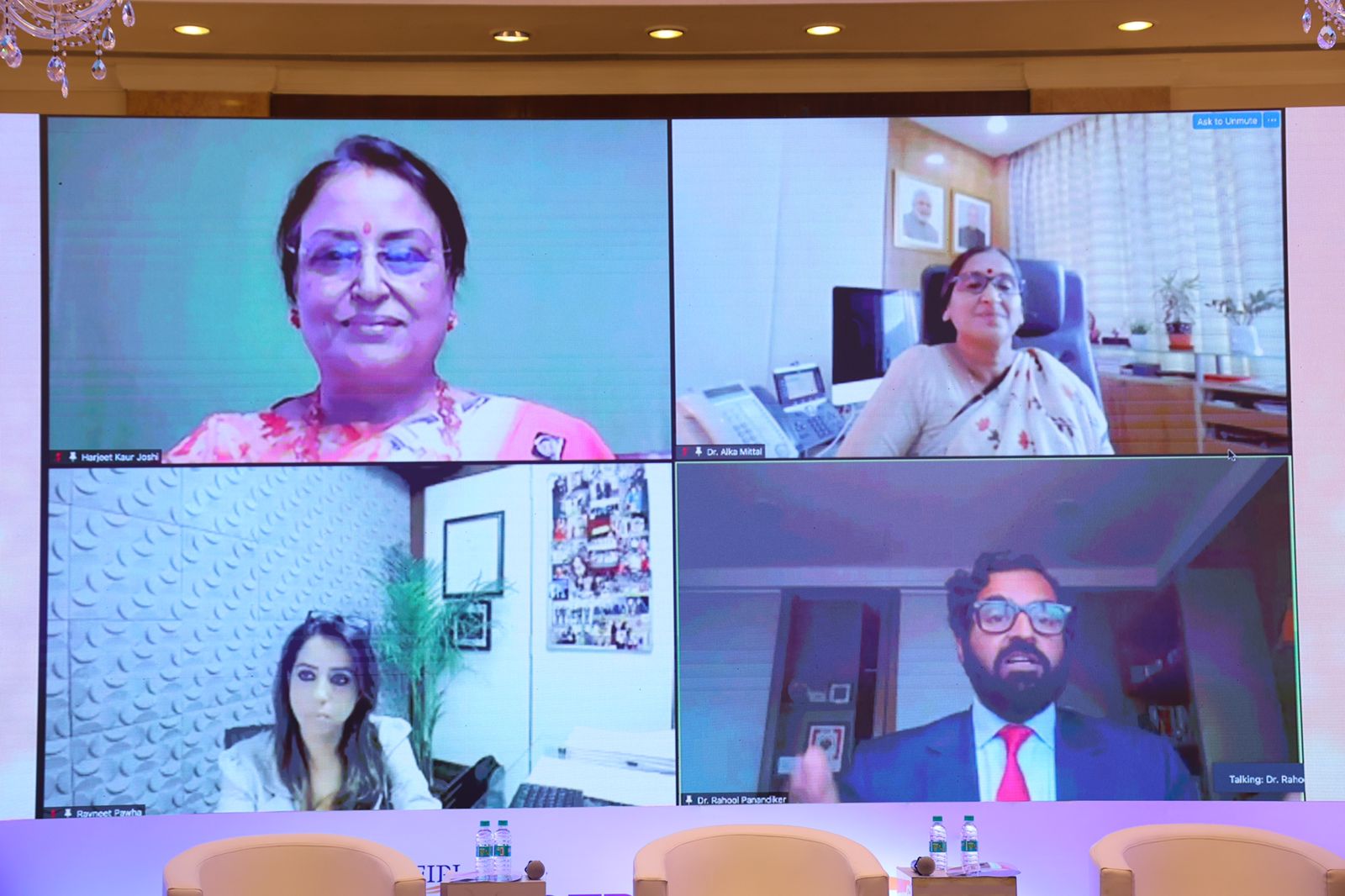 "One barrier that women create for themselves is that they hold themselves back from leadership roles, women must come forward." - Dr. Alka Mittal, Dir.(HR), ONGC
6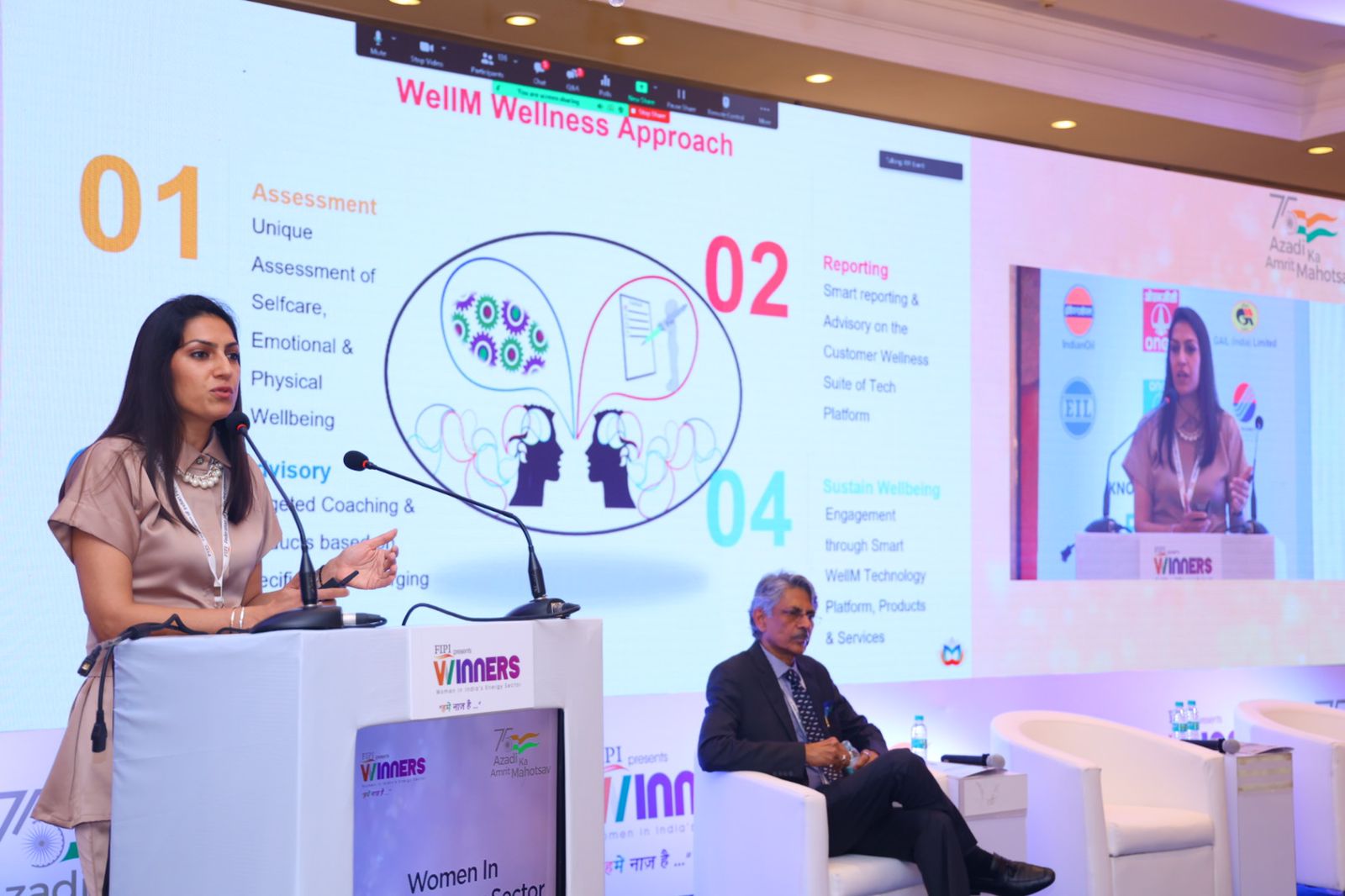 Dr. Rakesh Sarin and Dr. Shivi Sabharwal, Co-founders, Wellness Mandala shared important insights on wellness for women and how to keep their physical, mental and emotional well-being.
7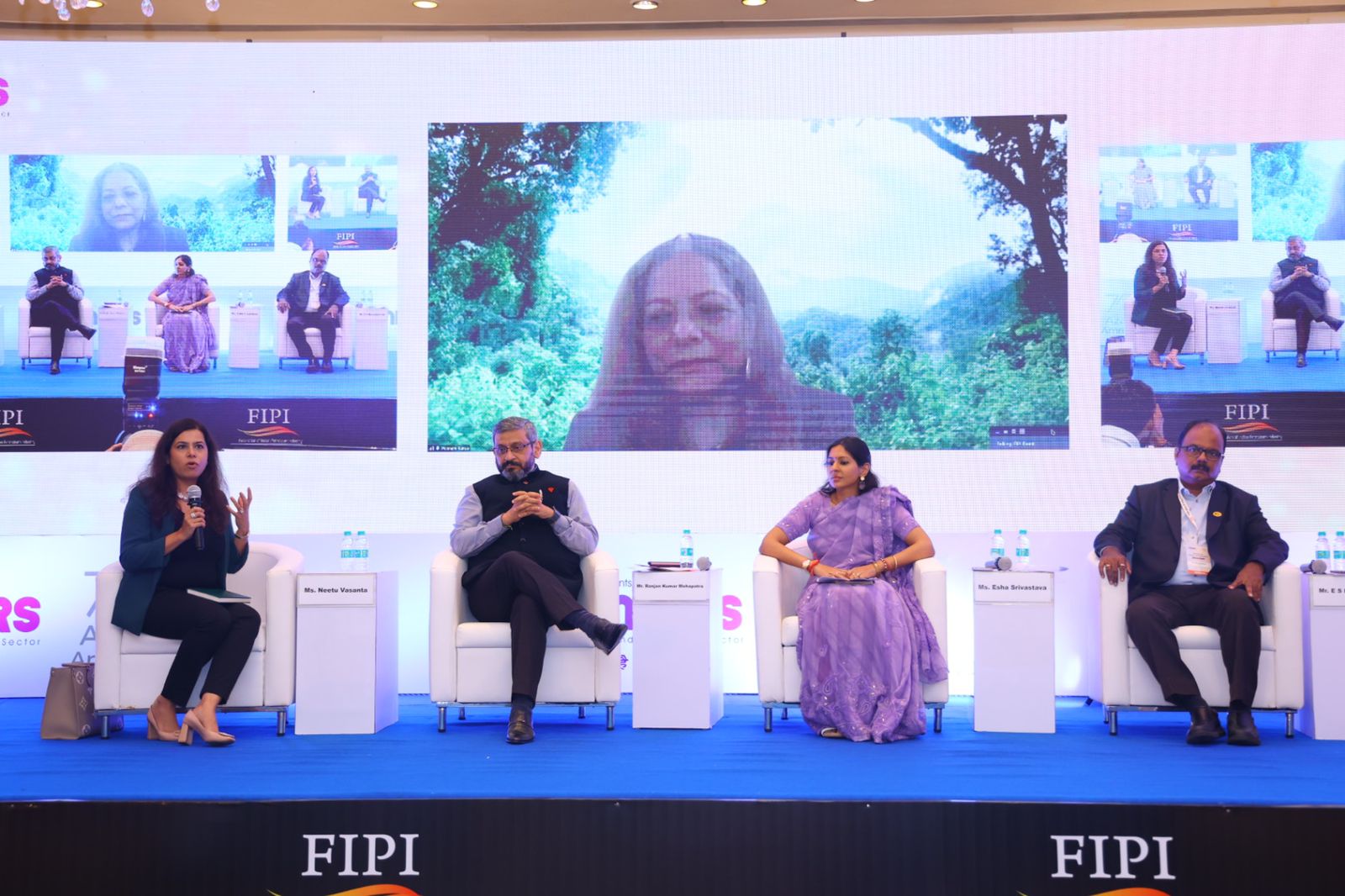 Ms. Esha Srivastava, Dir. (IC), MoP&NG; Mr. Ranjan Kr. Mohapatra, Dir. (HR), IOCL; Ms. Poonam Barua, Founder, WILL Forum India and Mr. E.S. Ranganathan, Dir.(M), GAIL India join Ms. Neetu Vasanta, MD, BCG at panel discussion on developing & supporting women.
8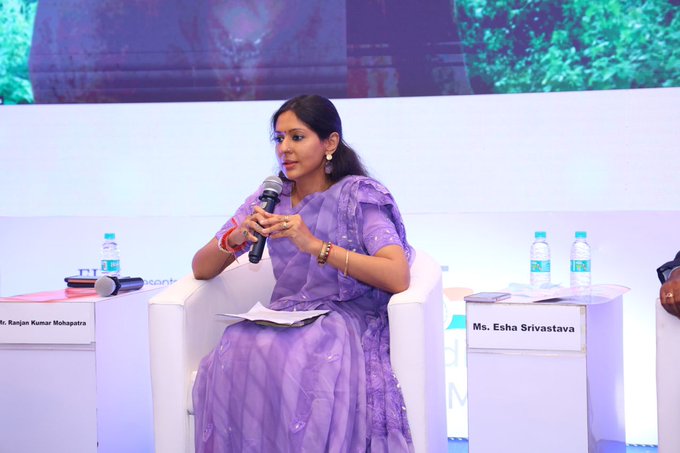 "Organizations have to ensure support for women at a time of their need and provide them with an empathetic workspace to ensure they don't drop out in the middle." - Ms. Esha Srivastava, Director (IC), MoP&NG
9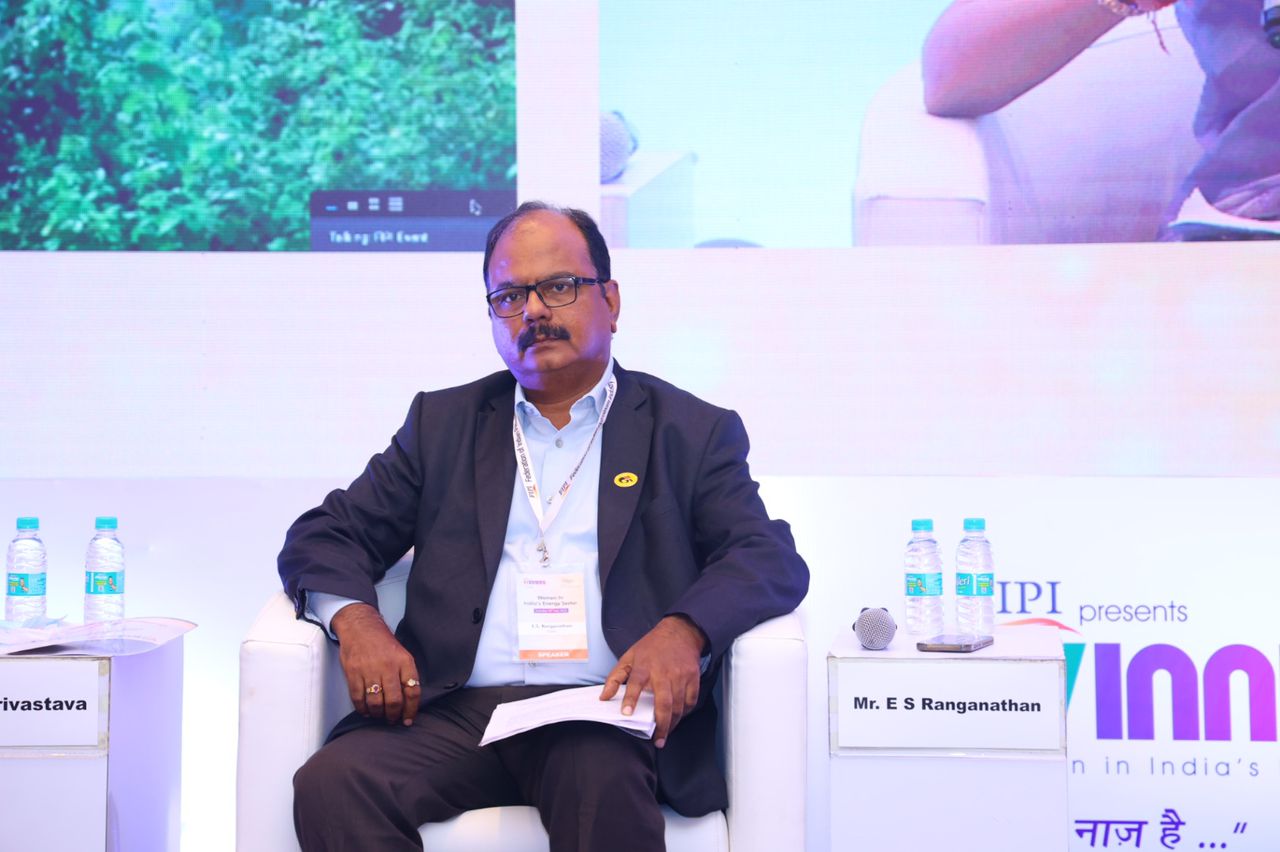 "Women are more methodological and good at multi-tasking, we only have to provide them a facilitative and supportive work-culture."-Mr. E.S. Ranganathan, Director (Marketing), GAIL India.
10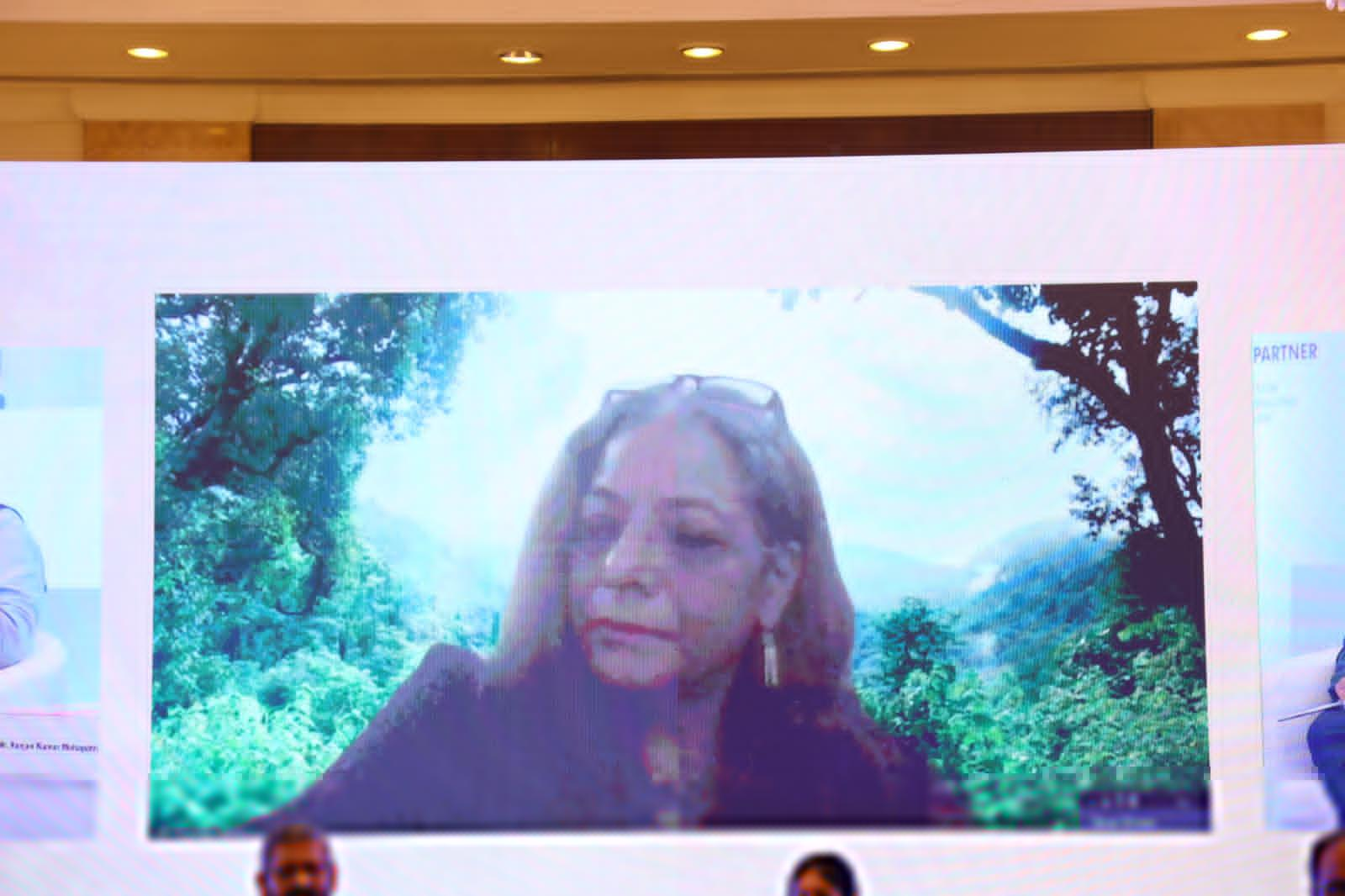 "Advancing women has to be a CEO/board level agenda, it can not left on the HR. The focus has to come from the top."- Ms. Poonam Barua, Founder Chairman, WILL Forum India.
11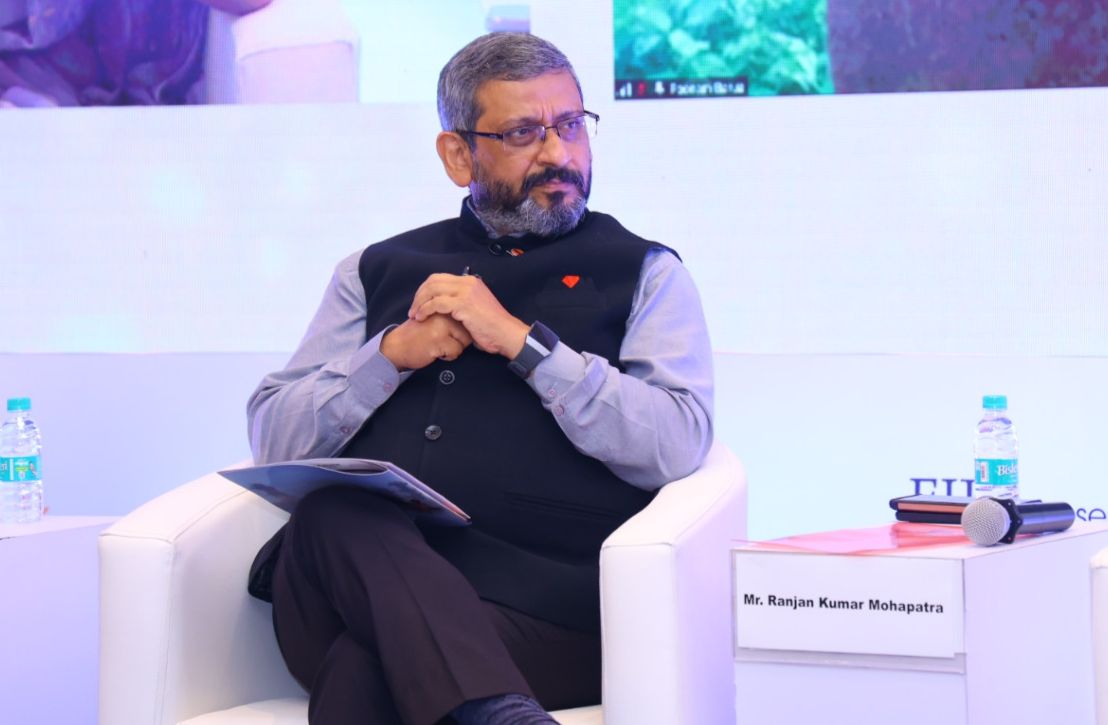 "Women don't require organisational support, it is the organizations that requires women's support." - Mr. Ranjan Kumar Mohapatra, Director (HR), IOCL.
.
12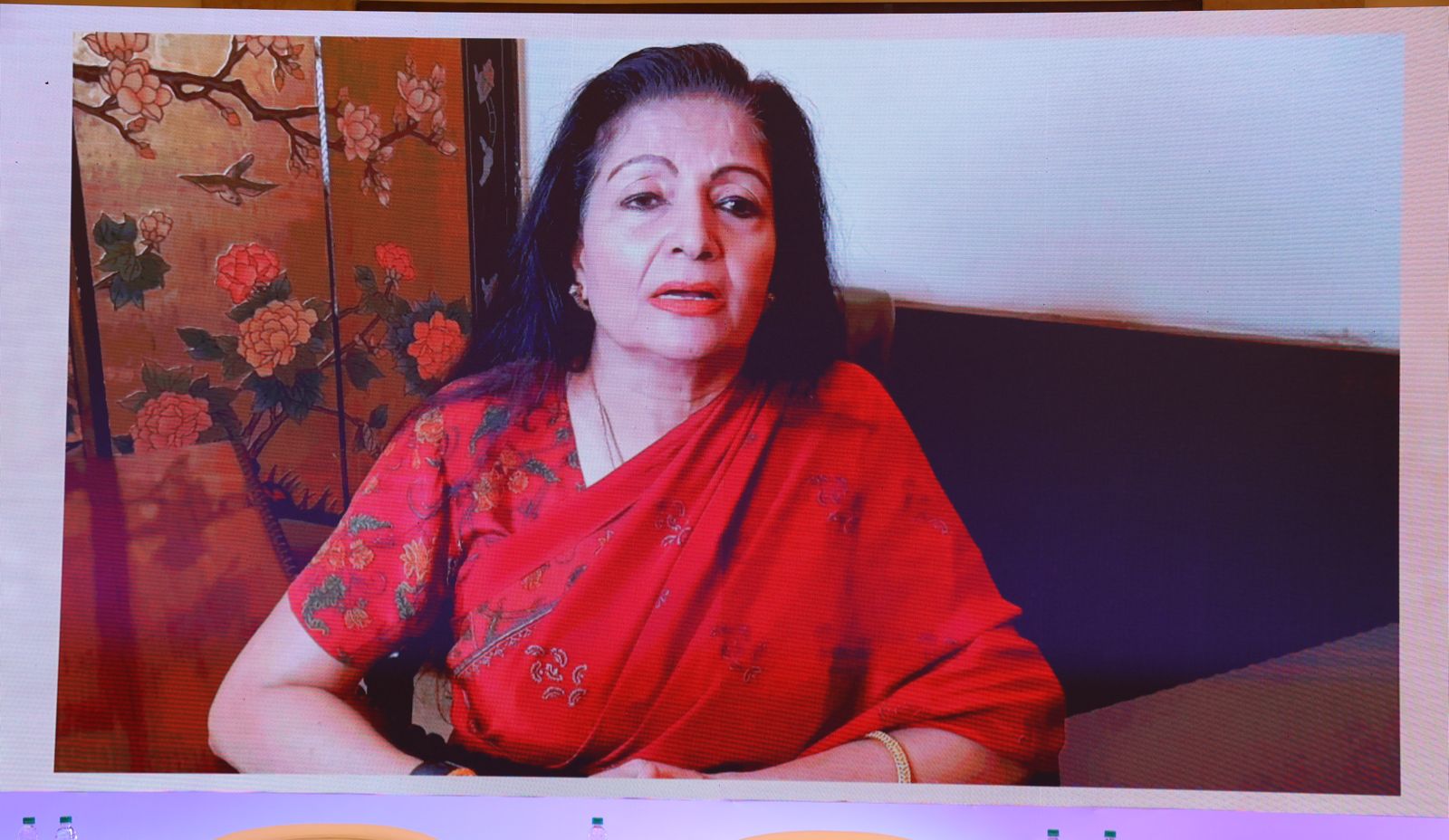 "There is a clear link between energy access,energy economics & participation of women.Women in rural India are at the forefront when it comes to energy sustainability" - Ms. Lakshmi Puri. former Assistant. Secetary-General, UN and former Deputy Executive Director, UN Women
.
Previous
Next
28-September-2021
Workshop on "WINNERS : Women in India's Energy Sector
Federation of Indian Petroleum Industry (FIPI) along with the Knowledge Partner the Boston Consulting Group (BCG) organised a one-day workshop on "WINNERS: Women in India's Energy Sector" on September 28, 2021. The workshop was attended by more than 300 delegates (physically and virtually) and was appreciated in terms of content by one and all.
Dr R. K. Malholtra, Director General, FIPI presented welcome note to the attendees in the conference by stating women's contribution to the economic development of any country is enormous. He said that India is celebrating 75 years of independence and during this time a lot has been done for women empowerment including education, provision for legal rights, right in property etc. He said many women are at the forefront in the energy and oil & gas industry. He recognised that certain social and cultural reservations have been affecting participation of Indian women in this area and talked about how various career opportunities should be made available to them to support diversity across sector. He mentioned that energy sector in least gender diverse and there is an urgent need to close the gap. He strongly believes that India's GDP can increase if women participate in economic activities of the country for instance the Ujjwala scheme aimed at providing clean gas to rural women. He concluded by saying that since world is moving towards clean energy transition, the share of women workforce in energy sector is bound to increase further.
Shri S.M. Vaidya, Chairman IOCL & Chairman, FIPI was the Guest of Honour for the event and addressed the audience virtually. He complimented FIPI for planning this special session which talks about how the role of women in the oil industry have evolved substantially. He said that women need an environment that help them to realize their potential to the fullest affirmative action without prejudice or bias. He mentioned that India accounts for 48% of the global workforce but still India stands half of the traditional energy sector workforce. This percentage is even lower in case of women involvement at senior management roles. Moreover, he mentioned the huge pay parity gap that continues to be a grave concern across the globe and has become a social imperative to rectify the same. He mentioned that greater female inclusion in the workforce provides a larger pool to meet the high demand for laborers, higher retention of key talent, increased profitability, better performance, improved safety records, higher standards of government behaviour, and benefits to women and the broader community. He reiterated that India being the third largest energy consumer in the world is further set to witness an increase in energy demand as our economy flourishes. To fuel this demand growth amidst challenges of limiting carbon emissions, the sector will need more talented and skilled human resources. Further oil & gas is a dynamic sector where technology is constantly evolving, so there will always be need to incorporate new skills in advanced analytics, machine learning, and robotics, thus a great potential to both increase female participation and to realize its benefits.
Shri Tarun Kapoor, Secretary, MOP&NG, was the Chief Guest for the event. He appreciated FIPI for organising this event which has brought together energy and gender experts to discuss advancing women's engagement in the energy sector. Women make up 22% of employees in the oil and gas industry worldwide, and this gender diversity increases with seniority. Further he said that as per Mc Kinsey Reports, it is estimated that India could add 770 US dollar billion US dollar to its GDP by 2025 and create around 50 to 60 million jobs through women run and women owned enterprises. He said that as a measure towards empowerment of poor women in the country who are bereft of access to clean cooking gas, MoP&NG has launched Pradhan Mantri Ujjwala Yojana (PMUY) in the form of a social movement, enabling social change and irreversible empowerment of women. He concluded by saying that equal opportunities in various work areas in organisations at all levels and in all types of jobs include technical/offshore high skilled type job will ensure gender diversity and propel economic growth of a country.
Ms. Vartika Shukla, CMD, EIL addressed the workshop by encouraging women to embrace tough assignments to get noted and be a trusted leader. She shared her personal journey of professional and personal life which was very encouraging for the participants. Ms. Pomila Jaspal, Director (F), MRPL said that women are untapped reservoir for industry and more so for energy sector. She said it is commendable that women workforce in energy has increased and it is heartening to see them on field jobs. She also highlighted that it is necessary to balance professional, personal, mental and physical health for women. Dr. Vibha Dhawan, Director General, TERI emphasized the importance of imparting education to all women in order to boost increased women participation across various industries. She said as women professionals we are at par, and it is about taking and grabbing an opportunity in different roles to reach up corporate ladder.
Ms. Whitney Merchant, Partner, BCG and Mr. Kaustubh Verma, Managing Director & Partner, BCG provided a brief background on the status of women workforce with statistics and survey findings on WPC Untapped Reserves 2.0 survey. She highlighted that as per the survey results India has 8% women workforce in overall oil and gas workforce as compared to 22% in rest of the world. Further she said that there is 50% drop in proportion of women as they go from senior to executive level in India, versus no drop in rest of the world. The major initiative where India leads include sexual harassment policy, maternity leave, executive coaching and professional development, equal pay and compensation across genders, and grievance systems.
Ms. Ulrike von Lonski, Chief Operating Officer, World Petroleum Council welcomed the outcomes of the Untapped reserves survey and said that it's a wakeup call for all the organisations to perform their actions required for a meaningful change towards promoting gender diversity. Dr. Amrita Sen highlighted the challenges women face in the energy sector such as working on offshore platforms, drilling sites etc and these create a hurdle for many women to pursue in the oil and gas sector. She said that energy is a diverse sphere and women need not only think of becoming a refinery engineer or an upstream engineer. There are other fields such as R&D, banking, finance, strategy, etc where women can excel and show great potential. Ms. Vanadan Hari, CEO, Vanda Insights said that all women have unique strengths and they need to know their strengths and weaknesses to put the best foot forward. Further she highlighted the importance of networking within and outside the organisation.
Ms. Ulrike von Lonski, Chief Operating Office, World Petroleum Council highlighted the importance of creating an environment where more young professionals with great talent join the oil and gas sector. Targeted recruitment of essential for many companies to adopt as a workforce policy measure.
Wellness Mandala Team, Mr. Rakesh Sarin and Ms. Shivi Sabharwal presented an insightful talk on Wellness for working women. They talked about that most women play more than one role in life: professional roles, family roles, community roles, and personal roles. It can sometimes be challenging to be many things at once, and finding a balance between responsibilities is a life skill that many women must actively cultivate. Therefore, in terms of enjoying the triumphs of daily life, as well as coping with its challenges, it's crucial for all working women to take care of physical, emotional and mental health.
Ms. Harjeet Kaur Joshi, CMD, Shipping Corporation of India started the session by elaborating on India's strong presence globally and education system in STEM. She emphasized the importance of fostering female students in Science, Technology, Engineering and Mathematics (STEM) fields in order to improve gender diversity in the energy sector is seen. She said what is required is jobs and opportunities in the energy sector that can boost women empowerment. Dr. Alka Mittal, Director (HR), ONGC mentioned that most of the roles in the oil and gas industry are based onshore across manufacturing and engineering and over a quarter of them are non-technical, including areas such as business development, law, finance and administrative support. The companies need to create an employee value proposition where young women consider it as an opportunity to engage in the oil and gas sector. Ms. Ravneet Pahwa, Country Head, Deakin University said that energy sector is witnessing a phenomenal shift globally, not only in terms of growth, hut also scope and still women comprise a very small percentage of the workforce of the sector. She said despite making up 48% of the global workforce women only account for 22% of the traditional energy sector so for management levels, which shows there is huge opportunity for growth for women in the sector.
Mr. Mohapatra, Director (HR), IOCL in his session highlighted that gender equality is one of the most important aspects of World development agenda. Currently, there's a need to enhance fair governance as females in leadership roles especially in PSU is very low. Ms. Esha Srivastava, Director (IC), MOP&G highlighted that it is essential for organisations to review relevant policies and processes including recruitment, retention, evaluation, remuneration and career planning to ensure they are gender sensitive. It is important to create an inclusive corporate culture so that all genders can equally flourish. Mr. E.S. Ranganathan, Director (Marketing), GAIL mentioned that women are more methodological and good at multi-tasking and the organisations need to provide them with a facilitative and support work culture to prosper in their career growth. Ms. Poonam Barua, Founder Chairman, WILL Forum India stress the importance of recruitment policies in an organisation that shape the future of working women. She said that decision on advancement of women to a senior management role should be taken by CEO or at board level meetings and should not be left on HR of the company. way in their career.
Ms. Lakshmi Puri, Former Assistant Secretary- General, UN and Former Deputy Executive Director, UN Women gave the valedictory address and shared her valuable insights through a recorded message. She highlighted that there is a clear link between energy access, energy economics and participation of women. Women in rural India are at the forefront when it comes to energy sustainability. The world of today is transitioning towards a greener and sustainable future. The share of clean energy sources such as solar, wind, biofuels, hydrogen etc. is slated to increase significantly in our primary energy mix. The role of women in contributing to the clean energy value chain is important and increasingly recognized by the global community.
She said that our honourable Prime Minister, Shri Narendra Modi has also emphasized that India is transitioning from women's development to 'women-led development'. In line with this, the government has implemented multi-sectoral schemes that recognize the true potential of India's women, empower them and provide them with the platform to contribute to India's growth story. The various initiatives of government include, Ujjwala Yojana Scheme for providing LPG connections to women below poverty line, Beti Bachao Beti Padhao Scheme, Sukanya Samridhi Yojana, among many others to improve the life of women across India.
Participation of women can be further increased in both conventional and non-conventional energy sectors by creating gender‑targeted policies both at the Government and company level to enable organizations to advance towards gender parity. She ended her session by saying that the full and equal participation and leadership of women is no longer an option; it is an urgent necessity if the country is to achieve the transformational change that is needed at all levels and spheres of society for sustainable development.