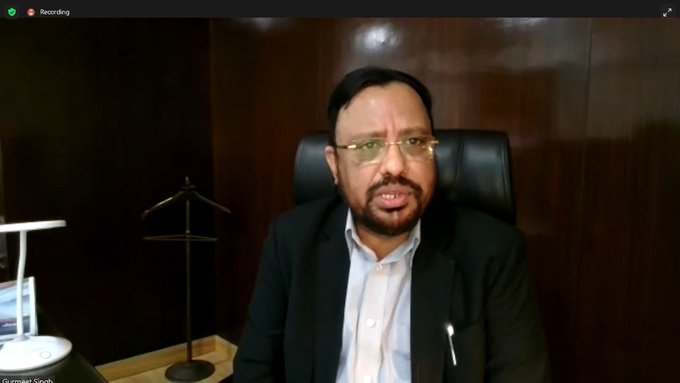 Mr. Gurmeet Singh, DG FIPI delivering the welcome address.
1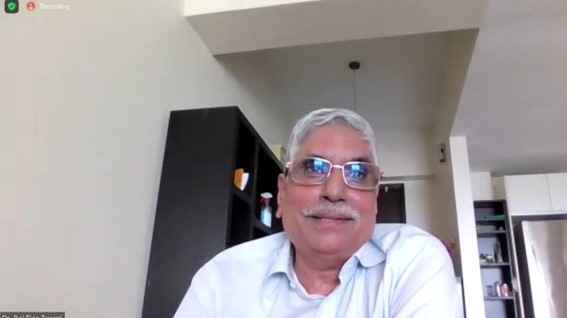 Dr Raj Deo Tewari, Chief Scientist R&D in Group Research & Technology, Petronas in his presentation on the "Important Role of CO2 Capture Utilization and Storage in the Energy Transition".
2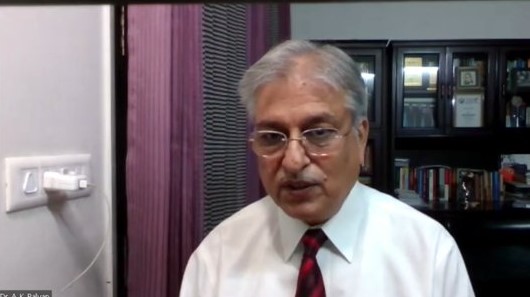 Dr. A K Balyan, former MD & CEO Petronet LNG, in his presentation on the "Energy Transition & Role of LNG/ Gas.
3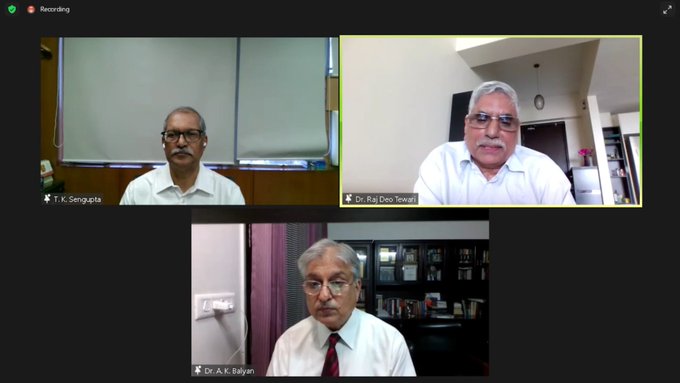 Mr. T K Sengupta, Director (E&P) FIPI delivering the Vote of Thanks.
Previous
Next
08-June-2022
Energy Transition & Decarbonization - Role of LNG & Application of CCUS
The Federation of Indian Petroleum Industry (FIPI) organized an exclusive webinar on 'Energy Transition & Decarbonization - Role of LNG & Application of CCUS' on 08th June 2022 over virtual platform. The webinar was aimed at understanding the role of Natural gas, LNG and CCUS in energy transition to pave a way forward for implementation of these concepts & technologies in the industry.
Two eminent speakers Dr. A K Balyan, former MD & CEO Petronet LNG and Dr. Raj Deo Tewari, Chief Scientist R&D, Group Research & Technology, Petronas, Malaysia shared their thoughts and experiences with the participants on the Role of LNG and objective of the CCUS as a viable CO2 mitigation option and its long-term outlook in decarbonizing the energy sector.
Commencing the proceedings of the webinar, Mr. Gurmeet Singh, Director General, FIPI extended a warm welcome to the speakers and participants. In his welcome address, he highlighted that with the following initiatives by the Government, India is already underway towards energy transition:


Accelerating the uses of renewable energy,


Decarbonisation of transport and adoption of electric mobility,


One nation one grid,


Ethanol blending programme, SATAT (bio gas) scheme,


FAME (EVs) scheme etc to ensure efficient, Sustainable and clean energy system for India in future.


National Hydrogen Mission with the goal to make India a global hub for Green Hydrogen production and export


He further added that FIPI is also working in this direction by organising various webinars, knowledge sharing sessions and conducting studies with a focus on clean energy and transition.
Dr Raj Deo Tewari, Chief Scientist R&D in Group Research & Technology, Petronas in his presentation on the "Important Role of CO2 Capture Utilization and Storage in the Energy Transition" emphasised that there is an urgency to significantly cut GHG emission to avoid the economic and human consequences of severe climate change. Dr Tewari highlighted the following through his presentation:


GHG Emission: GHG impact on environment is real, serious and poses a serious threat to climate change and its management is critical for maintaining the clean planet.




Climate Change: Exponential growth of energy use, Rapid economic growth, Urbanization and Deforestation are the major sources of GHG that are contributing towards climate change




CCUS Strategy: (i) CO2 solutions can provide new gas fields development (ii) CO2 storage as new revenue stream and (iii) Utilization solutions that can turn the CO2 into re-usable and commercially viable products




CO2 storage in oil and gas reservoirs: Geological storage of CO2 uses the same forces and processes that have trapped oil, gas (including naturally occurring CO2) and other hydrocarbons in the Earth's subsurface for millions of years. Geological Storage Resources for CO2 in Saline Formations is hundreds of times larger than the Resources in Oil and Gas Fields


Further, Dr Tewari has also talked about various CCS Facilities across the globe which are at various Stages of Developments, Current and Future CCS capacity, typical CO2 storage development plan required for such storages and its well management, various requirement for Certification of Sites for geological CO2 storage.
Dr Tewari further gave details of various CO2 storage facilities developed across the globe along with its challenges. The examples included from Gorgon Project- Australia, Snøhvit Project- Norway, Sleipner Project, In Salah Project, Weyburn Project-Canada, Tomakomai CCS Demonstration Project Japan.
Lastly, Dr Tewari has briefly summarized the primary points of his presentation as:


Alternative renewable sources of energy are developing but gas will continue to play the role of transition fuel due to its good quality and commercial viability. Thus O&G will play a role in energy mix in near future.


More responsibility on Energy Industry Professionals for solutions and awareness of GHG effects.


Comprehensive study is critical for CO2 storage. Short cut or generalization is not an option and Knowledge, adaption to technology for CCUS is must.


Depleted oil and gas fields are better candidates for storage of bulk CO2 in comparison to saline aquifer due to its better understanding.


CO2 storage industry would be a big industry in coming time. The public is generally unfamiliar with CCUS, and oil and gas industry might play a large role in the reduction of GHG emissions and creating awareness among the masses.


CO2 can be utilized for generation of chemicals like PCC, Methanol and ethanol etc.


Dr. A K Balyan, former MD & CEO Petronet LNG, in his presentation on the "Energy Transition & Role of LNG/ Gas" emphasised that use of energy today cannot be seen in isolation and the true cost of energy is more than just few dollars/cents. It is important to take into consideration the consequences of choosing an energy source as it has economic, political, social and environmental factors attached to it.
Dr. Balyan emphasised on the various Energy Scenarios and informed that energy scenarios mapping not only impact the choice for the energy-mix, technology and investments, but also the intensity with which the societies and nations pursue its behaviour and policies. Dr. Balyan gave brief about some of the popular energy scenarios as follows:


World Energy Outlook by IEA (International Energy Agency)


International Energy Outlook by EIA (U.S. Energy Information Administration)


World Energy Council's Scenario


The Greenpeace Energy (R)evolution -2015


Market research organizations like Goldman Sachs, McKinsey, DNV, Rystad Energy, Shell, Wood Mackenzie, IGU, Poten & Partners etc come out with their reports on projections of demand for energy and energy commodities.


Dr. Balyan further added that the Global Energy Transition Trends is driven by technological development, national & industry climate commitments, policy changes and financial sector. While taking about the features of Energy transition, Dr. Balyan highlighted that:


PRESSURE IS MOUNTING as emissions are set to remain stubbornly high until mid 30s.


DECARBONIZATION IS ON THE AGENDA of industry and government, but not at the pace or depth to meet the Paris agreement.


HYDROGEN & CCS have the potential to transform the industry.


THE WORLD IS MOVING from more oil to cheapest oil as demand declines.


MULTIPLE ENERGY TRANSITIONS from coal & oil to natural gas, and from fossil fuels to renewables and decarbonized gas.


In all the scenarios, LNG IS SET TO THRIVE in a strong gas market.


While talking about Carbon neutrality in LNG, Dr. Balyan added that the parties engaged in trade have the option to offset the amount of CO2 equivalent associated with the whole carbon footprints of the LNG cargo (including production, liquefaction, shipping, regasification & end use) through VCS (Verified Carbon Standards) in certified emission reduction projects. In the carbon neutral LNG trade, GHG emissions from supply and/or consumption are accounted for and offset by procuring and retiring carbon credits generated through GHG abatement projects such as afforestation, farm/soil management and methane collection. The 1st carbon neutral cargo traded was in 2019 and there are 15+ carbon neutral cargoes sold so far.
The next segment of the session was audience Q&A. For this session, an overwhelming number of questions were received from the audience, which also stood testimony to the audience interest on the subject. The two and a half hour long session witnessed an overwhelming participation by over 180+ participants across the oil and gas value chain in the country.
At the end, Mr. T K Sengupta, Director (E&P), FIPI extended sincere gratitude and thanked all the two speakers Dr Raj Deo Tewari, and Dr. A K Balyan for giving their valuable time and for sharing their experiences on the Energy Transition & Decarbonization perspective focussing on CCUS & LNG. He also thanked all the participants for taking out their time and listening to the session.
The session was brought to an end, wishing all speakers and participants the best of health.
Click here to download Presentations