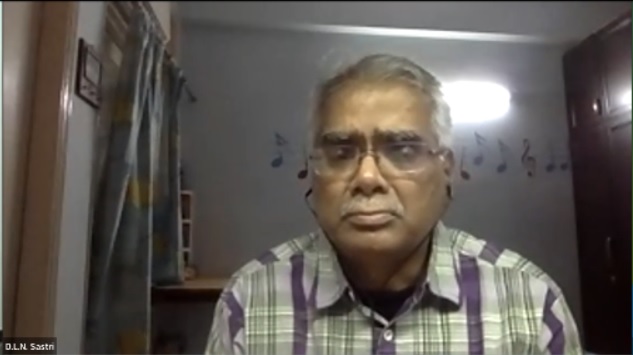 Mr. DLN Sastri, Director (Oil, Refining & Marketing) FIPI delivering the Vote of Thanks
1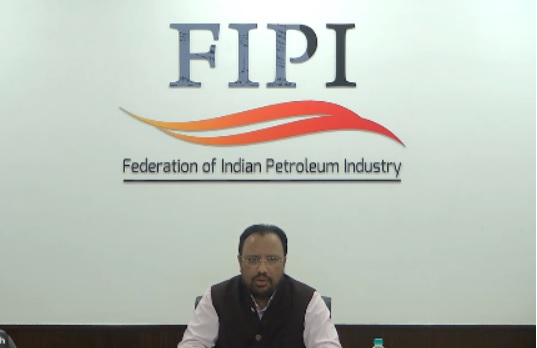 Mr. Gurmeet Singh, DG FIPI delivering the welcome address
2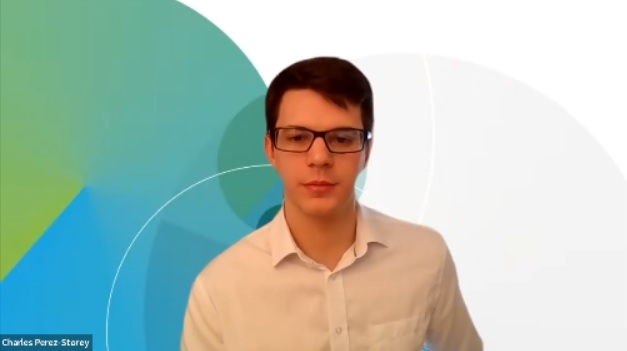 Mr. Charles Perez-Storey, Progressive energy, U.K delivering his presentation on "HyDeploy: Unlocking hydrogen blending in the UK gas grid"
3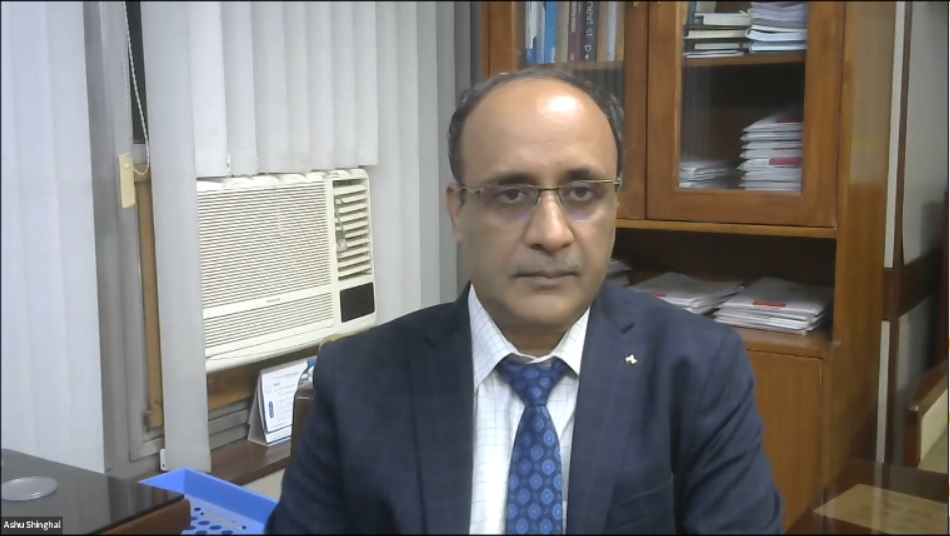 Mr. Ashu Shinghal, Executive Director, GAIL giving his presentation on "Gas Hydrogen Blending Initiatives of India"
4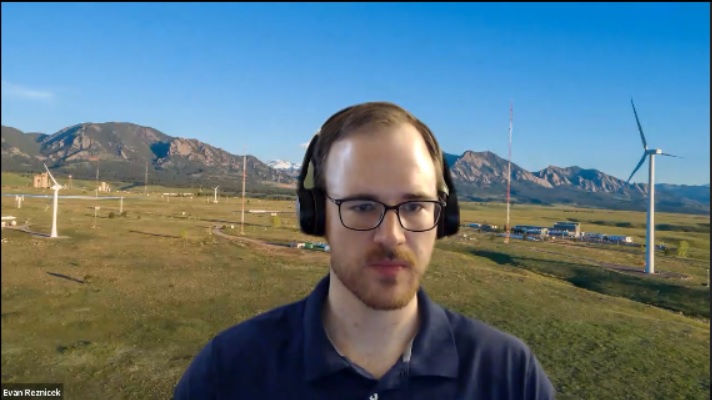 Mr. Evan Reznicek, National Renewable Energy Laboratory (NREL), U.S giving his presentation on "Pipeline Blending CRADA – A HyBlend Project".
Previous
Next
08-April-2022
Webinar on Gas- Hydrogen Blending
The Federation of Indian Petroleum Industry (FIPI) organized an exclusive webinar on 'Gas-Hydrogen Blending' on 08 April, 2022 over virtual platform. The webinar was aimed at sharing of knowledge from various gas-hydrogen blending initiatives and projects across the globe.
Three eminent speakers consisting of Mr. Ashu Shinghal, Executive Director, GAIL, India, Mr. Charles Perez-Storey, Progressive Energy, U.K and Mr. Evan Reznicek, National Renewable Energy Laboratory (NREL), U.S shared their experiences with the participants on the progresses made on Gas- H2 blending in countries like U.S, U.K and India.
Commencing the proceedings of the webinar, Mr. Gurmeet Singh, Director General, FIPI extended a warm welcome to the speakers and participants. In his welcome address, he highlighted that the blending hydrogen into the existing gas grid could be an important stepping stone during the transition to a sustainable, net zero future. He also highlighted that there are several developments including project announcements, initiation of pilot projects, funding for the research that is taking place around the world to carry out the blending of green hydrogen in natural gas pipelines.
He shared that some of the major projects are: HyBlend Project in the U.S., HyDeploy project in U.K, Ameland project of Netherlands, Hyp SA (Hydrogen Park South Australia) project of Australia and also in India, many pilot projects have been initiated, and the success of these various ongoing projects across the world for gas-hydrogen blending can prove an important step towards developing hydrogen economy. He also highlighted that such knowledge sharing sessions and collaborative approach is very much required as the concept of blending is currently in its early stages of development.
Mr. Charles Perez-Storey, is associated with Progressive energy, U.K as Project Lead for the HyDeploy project. He highlighted the following major developments through his presentation:


UK has secured its first permission for blending hydrogen into the grid in November 2018, based on 18 months of extensive rigorous research.


Domestic appliances connected to gas network are most numerous use case.


Keele Trial Overview: 100 homes and 30 university buildings received a blend between Oct 19 – Mar 21, Safe and successful operation of the UK's first live hydrogen trial, Provided over 42,000 scm of hydrogen, abating over 27 tonnes CO2


Public Network Trial: Isolated network of 668 homes, a school, church and shop currently receiving a hydrogen blend. Commenced in August 2021




Currently operating at 20% within process control limits


No appliance issues or differences observed by residents


Main challenge: demonstrating material suitability of Cast Iron.


Main Outcome: generalized evidence of operational safety for representative GB appliances5. Industrial Evidence Base: Industrial trials are underway to understand any potential implications for industrial processes


Completed trials:


1.2 MW forced draft test furnace – no issues identified


5-day trial with a 55 MW glass furnace – no operational or product quality issues identified


Trial in-progress/planned:


7 MW operational steam boiler with Unilever


Ceramics (bricks, refractory, tiles etc) with Lucideon


Comparative baking (bread, biscuits and cakes) with Campden BRI


Other trials in development


Mr. Ashu Shinghal, Executive Director, GAIL has highlighted the following blending initiatives taken by GAIL:


Indore CGD network selected for blending of hydrogen in natural gas up to 2% by vol considering the existing system components


PNGRB & PESO have provided a go ahead for the pilot project at CGS Indore from 1.1%- 2.0% which was commissioned on Jan 2022


Blended gas supplied to CGD Consumers


He has also highlighted the following Performance Report & Study Findings:


Weekly thickness measurement report of line pipe at CGS station has revealed no thickness reduction due to hydrogen blending


Feedback customers no effect other than slight lighter color of flame


Instruments: upto 20 vol% of H2 will not impact performance , but recalibration required


Compressor & its drivers : Up to 3 vol% of H2 with modifications as per OEM


Favorable materials for H2 service up to 5 vol% of hydrogen: API 5L GR.B, API 5L X42(PSL 2), API 5L.X52, ASTM A333; line pack and fittings


Engine recalibration required upto 20 vol% of mixing


Major overhauling over above 20 vol% of mixing


He has also shared about other blending projects which are under various stages of Implementation in India:


NTPC & Gujarat Gas Limited (GGL) to blend Green Hydrogen in Piped Natural Gas for cooking applications in NTPC Kawas Township, Initially % of hydrogen blending in the PNG shall be around 5 %.




IGL: Green H2 production with cumulative capacity of 50 MW (covering 03 City Gate Stations for proposed H2 blending in CGD Network).


Mr. Evan Reznicek, National Renewable Energy Laboratory (NREL) U.S, briefly pointed out that NREL H2 Systems Analysis activities provide direction, insight, and support for the development, demonstration, and deployment of hydrogen technologies. Some of the highlights from his presentations are:


United States has approximately three million miles of natural gas pipelines


More than 1,600 miles of dedicated hydrogen pipelines


U.S. currently produces ten million metric tonnes of H2 per day for refining and fertilizer production


Majority produced via reforming of natural gas


Significant push to develop low-carbon alternatives such as water electrolysis, SMR+CCS, and methane pyrolysis


Large challenge for H2 deployment is transmission and distribution infrastructure


HyBlend is co-funded by U.S. DOE and Industry:




$15M R&D portfolio


20+ industry partners


Six national laboratories







He further shared some of the Preliminary Results and Findings from the HyBlend Project as follows:


Fatigue crack growth rates are known to increase in presence of hydrogen


Assessing polyethylene pipeline compatibility with hydrogen requires more testing


Hydrogen thermodynamic and transport properties can vary significantly from those of methane/natural gas


Blending hydrogen with natural gas affects pipeline mixture hydraulics, thermodynamics, and heat transfer


Blending hydrogen with natural gas requires greater compression work and higher compressor speed


Review of economic studies illustrates shortcomings in evaluation of hydrogen blending economics


He also highlighted some of the key areas of future research:


Characterization of a steel pipe performance with defects


Testing of a broader array of polyethylene materials in relevant environments


Development of an open-source tool to determine the costs of upgrading pipelines for hydrogen


Assessment of overall value statement and decarbonization potential of hydrogen blending




The next segment of the session was audience Q&A. For this session, an overwhelming number of questions were received from the audience, which also stood testimony to the audience interest on the subject. The one and a half hour long session witnessed an overwhelming participation by over 125+ participants across the oil and gas value chain in the country.
At the end, Mr. D L N Sastri, Director (Oil, Refining & Marketing) FIPI extended sincere gratitude and thanked all the three speakers Mr. Charles, Mr. Evan and Mr. Shinghal for giving their valuable time and for sharing their experiences on the Gas- H2 blending perspective. He also thanked all the participants for taking out time and listening to the session.
The session was brought to an end, wishing all speakers and participants the best of health.