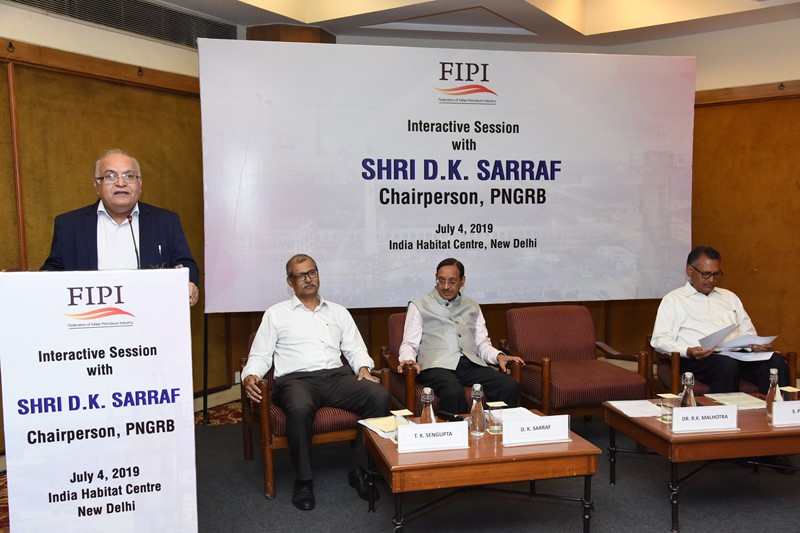 Dr RK. Malhotra DG FIPI welcoming the august audience at the interactive session with Mr DK Sarraf Chairperson, PNGRB organized by FIPI
1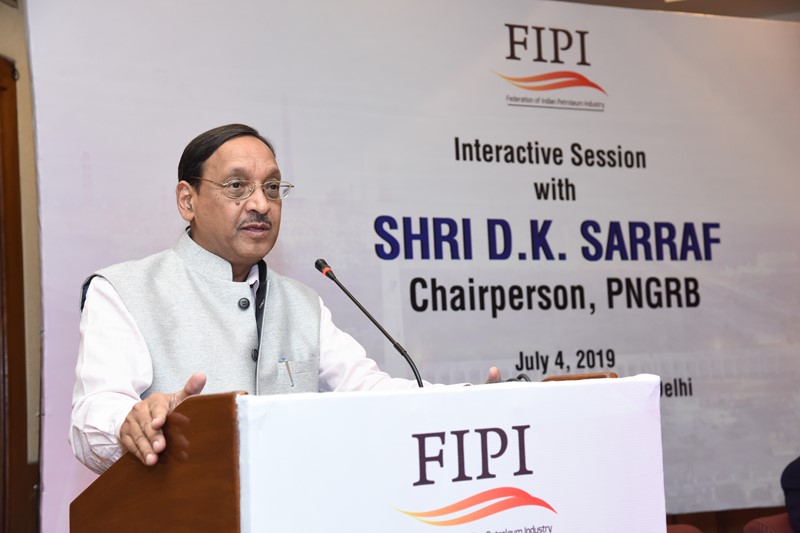 PNGRB will ensure that there are no impediments in way of #CGD players who are playing a key role in gasification of the Indian economy
2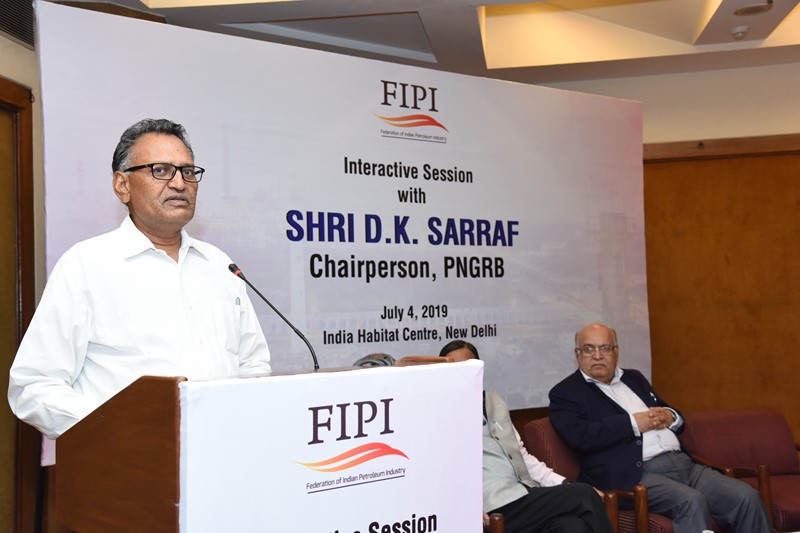 Inclusion of #naturalgas under #GST is critical to development of gas trading hub in the country - Mr S P Garg, Member, PNGRB
3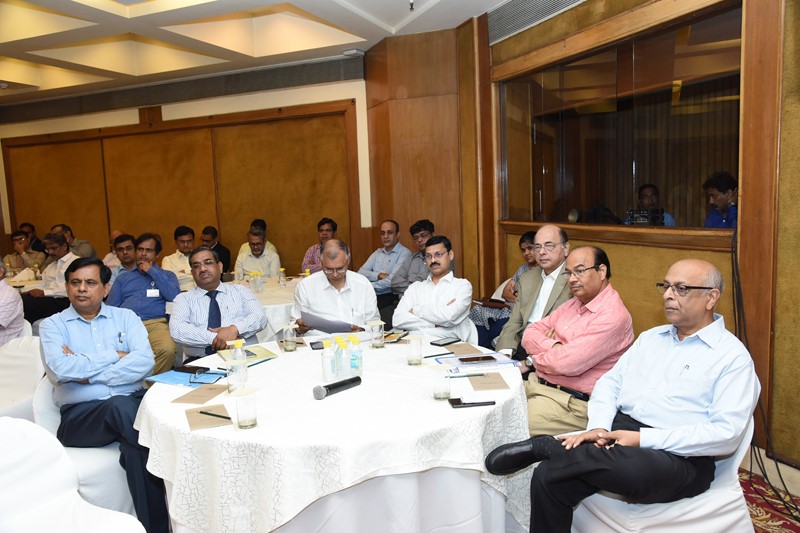 4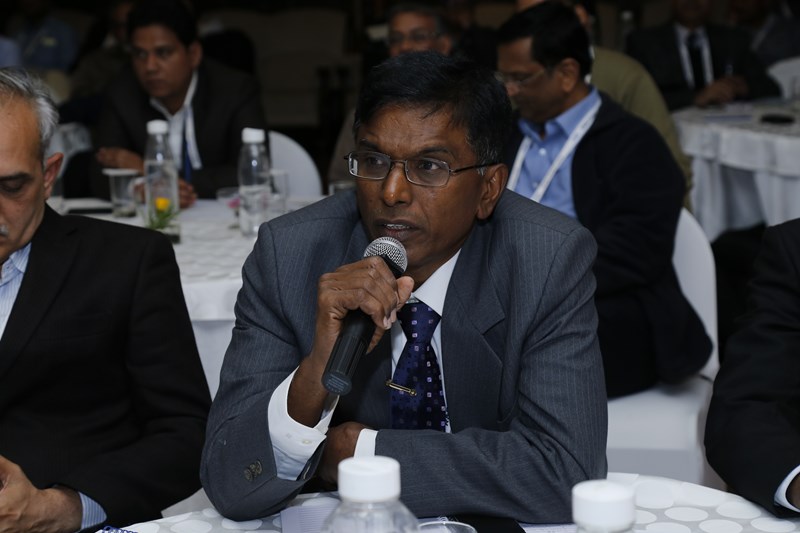 5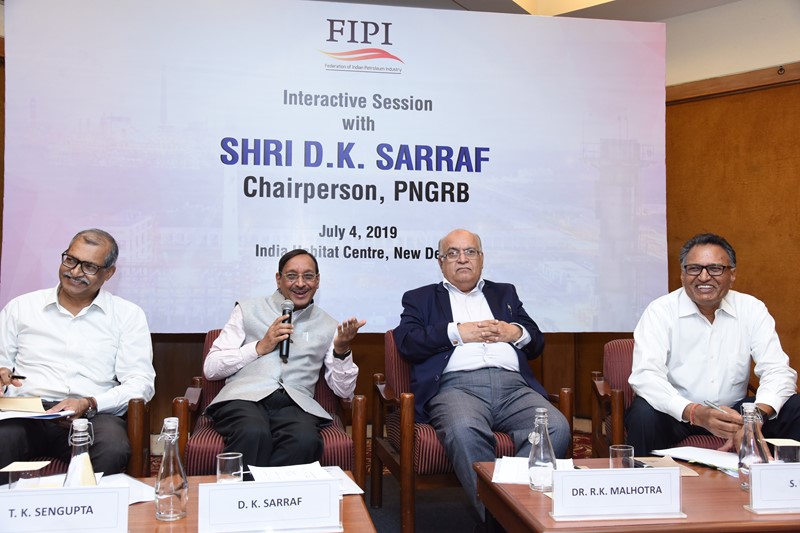 Shri D.K. Saraf interacting with the participants
6
Previous
Next
04-July-2019
Interactive Session with PNGRB
The Federation of Indian Petroleum Industry organized an interactive session with PNGRB on July 4, 2019 at India Habitat Centre, New Delhi. Shri D.K. Sarraf, Chairperson, PNGRB and Shri S.P. Garg, Member, PNGRB graced the occasion with their presence. The objective of this session was to address the issues related to upstream gas producers, midstream gas companies, LNG companies, downstream oil refining & marketing companies, CGD companies that fall under the purview of PNGRB.
Shri T.K. Sengupta, Director (E&P), FIPI set the background of the interactive session by mentioning that a good number of issues/concerns pertaining to PNGRB were raised in different FIPI Committees. While discussing these issues with Shri D.K. Sarraf, Chairperson, PNGRB, he suggested FIPI to organize an interactive session with industry members.
The welcome address was delivered by Dr. R.K. Malhotra, Director General, FIPI. In his address, Dr. Malhotra underlined the importance of Gas Vision 2030 and spoke about the efforts taken by PNGRB to increase the share of Natural Gas in the Indian energy market. Dr. Malhotra, spoke about the energy transition and the emerging role of gas as a replacement fuel.
Shri D.K. Sarraf in his opening remarks mentioned that PNGRB is working for the industry which has been extremely responsive on the issues being pursued by PNGRB. He emphasized that PNGRB is now more of a 'Facilitator' than a 'Regulator'.
In his address, he also emphasized on the increased use of gas as a cleaner fuel and the key role being played by CGD players in gasification of Indian economy. Pointing out to the global survey on pollution which says 14 of the top polluted cities are in India, Mr. Sarraf said, increase in use of natural gas can help in battling the emission. Talking about NITI Aayog's sustainable development goals on energy, he said that NITI Aayog's data shows that 44% of Indian household use clean energy like LPG, piped gas etc. and 56% are still using the unclean energy, which needs to be changed.
Speaking about the City Gas Distribution (CGD) rounds, Shri Sarraf mentioned that 70% of the population will be covered by the end of 10th CGD round and 136 Geographical Areas have been given authorization for CGD. He further spoke upon the allocation of gas, gas swapping guidelines, pipeline availability, status of new pipeline construction activity and other issues related to CGD. He further suggested FIPI to organise a separate forum for CGD to address the industry concerns.
Shri Sarraf also stated that due to the increased CGD activity in the country there is a greater need of pipelines and the associated equipments like compressors, measurement systems, dispensers etc. Also, there will be a requirement of skilled manpower, like fitters, mechanics, operators, electricians and management/supervise personnel. Moreover, a number of State Government issues like RoU, permission/approval time, multiplicity of the problem need to be addressed.
Shri Sarraf apprised about the developments on CGD exclusivity, monitoring of CGD progress, unification of tariff etc. He further added that key industry issues have been sent to MoP&NG for review. He assured that PNGRB will render its full support in addressing the industry issues and for the betterment of industry and the nation.
Shri S.P. Garg, Member, PNGRB spoke about the efforts taken in addressing the issues prevailing in the gas, pipeline and CGD sectors. Speaking on the Gas trading hub, Mr. Garg said that a draft regulation has been prepared for the Cabinet's approval. He stressed on the need for inclusion of gas under GST to enable increased usage of gas.
Following Shri Garg's address, the floor was opened for interaction. Officials from different oil & gas companies interacted with the Shri Sarraf and Shri Garg on a host of issues falling under the ambit of PNGRB. The discussions were held mainly on the issues related to HSE; pipeline authorization, construction and usage; CGD; Common policy for all the States on charges; pipeline utility corridor etc.
Shri Sarraf, appreciating the issue of alignment of different safety systems by multiple agencies , suggested that separate meetings can be organized on HSE issues with the involvement of other agencies as well . He suggested the same for CGD issues with the concerned stakeholders.
Shri T.K. Sengupta proposed the vote of thanks and expressed gratitude to Shri D.K. Sarraf and Shri S.P. Garg for interacting with the industry fraternity and addressing their issues.
The event witnessed a large number of participation from Oil & Gas sector which was well received by them.