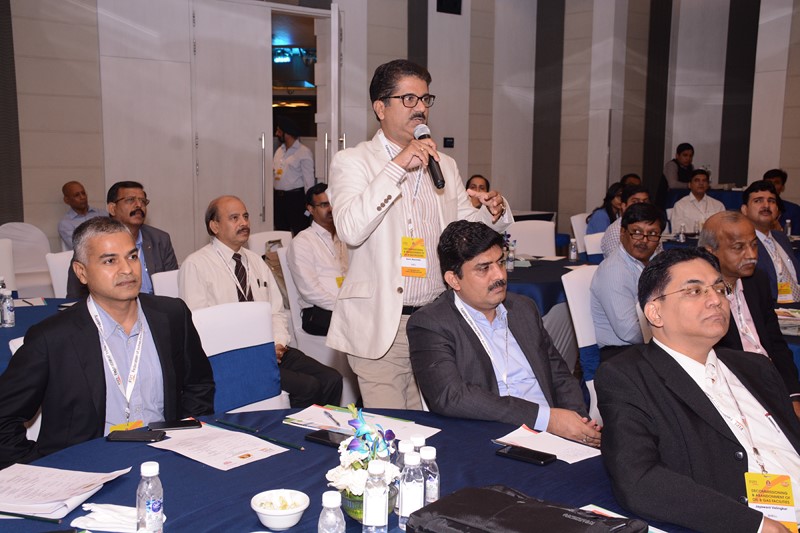 1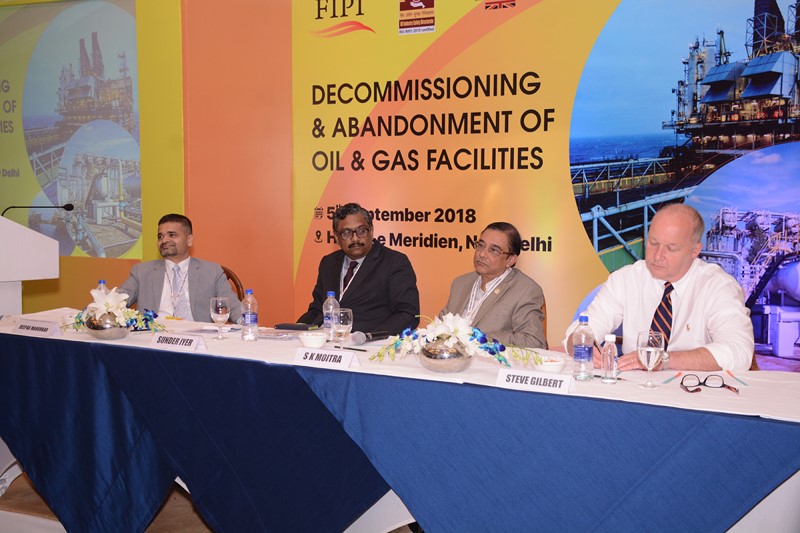 Panel discussion on 'Decommissioning & Abandonment of Oil & Gas Facilities'. (L-R) Mr. Deepak Mahurkar, Partner and Leader – Oil & Gas, PwC India; Mr Sundar Iyer, Director – Exploration and Production, Oil Industry Safety Directorate (OISD); Mr S K Moitra, Director – Onshore, ONGC Ltd; Mr Steve Gilbert, Global Director of Asset Management & Decommissioning, Lloyd's Register
2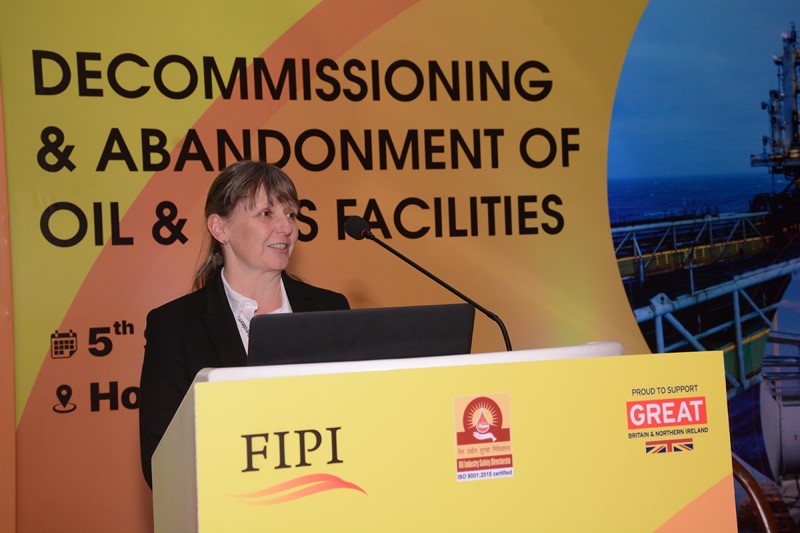 Ms Steph Kiltie, Decommissioning Manager, Project Development International (PDi) sharing her presentation on 'Lessons Learned from a Decade of Decommissioning on the UK Continental Shelf'
3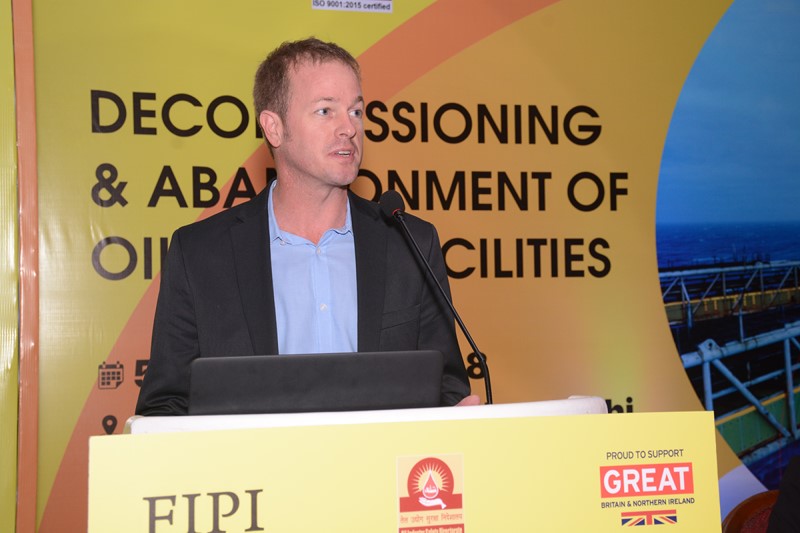 Mr Dirk Heseman, Project Manager, Service Technology & Rentals – Asia, Oceaneering International Services Ltd delivering the presentation on 'Technical and Engineering Solutions for the Decommissioning'
4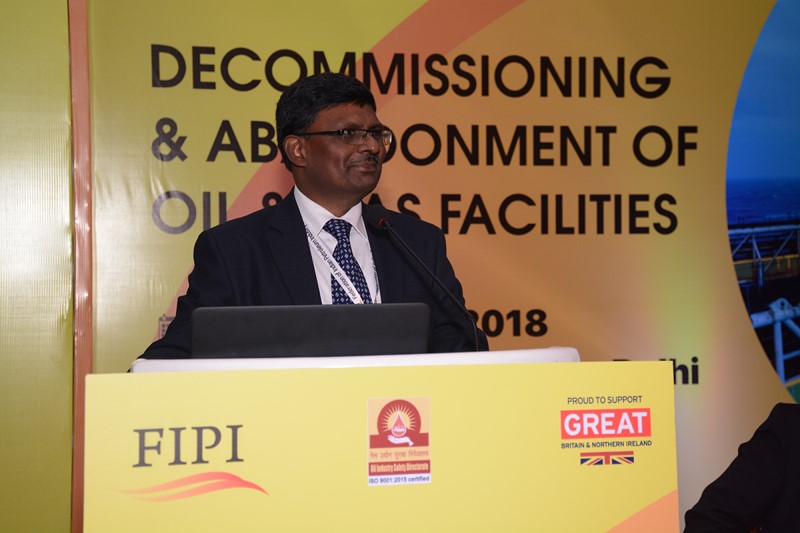 Mr S Karunanidhi, DGM – Drilling Institute of Engineering & Ocean Technology (IEOT), ONGC Ltd sharing his presentation on 'Decommissioning and relocation of fixed offshore jacket'
5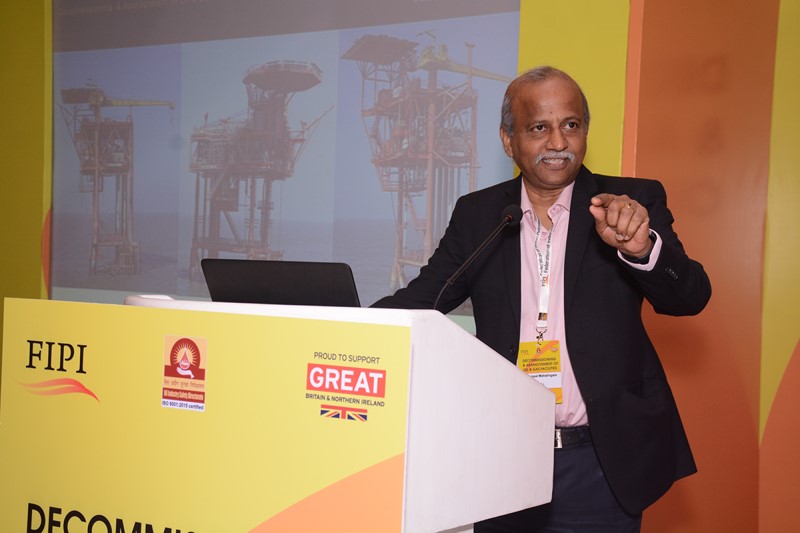 Mr Rajagopal Mahalingam, Project Manager – Tapti Decommissioning, Shell sharing Case Study on "Tapti Decommissioning"
6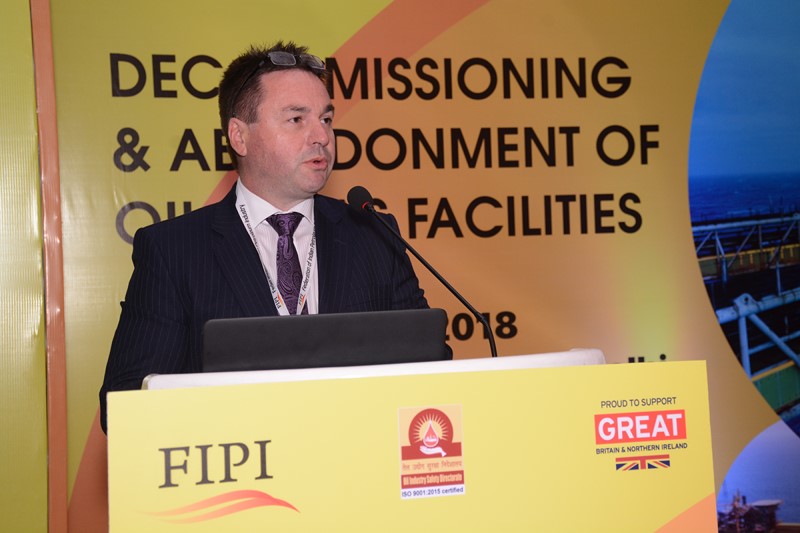 Mr Andrew Livingstone, Decommissioning Director, BHGE delivering the presentation on 'Process for Decommissioning and International Case Studies'
7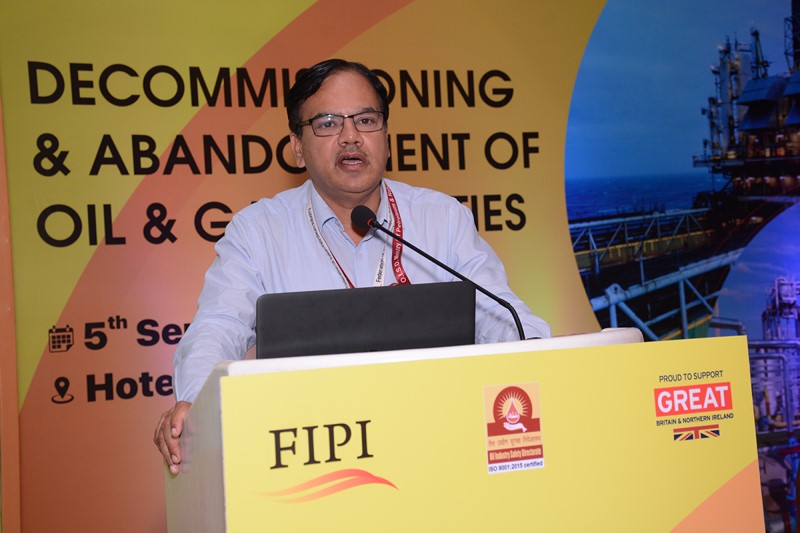 Mr D V Chandrashekar, Additional Director (E&P), Oil Industry Safety Directorate (OISD) delivering his presentation on 'Decommissioning – A Regulators perspective'
8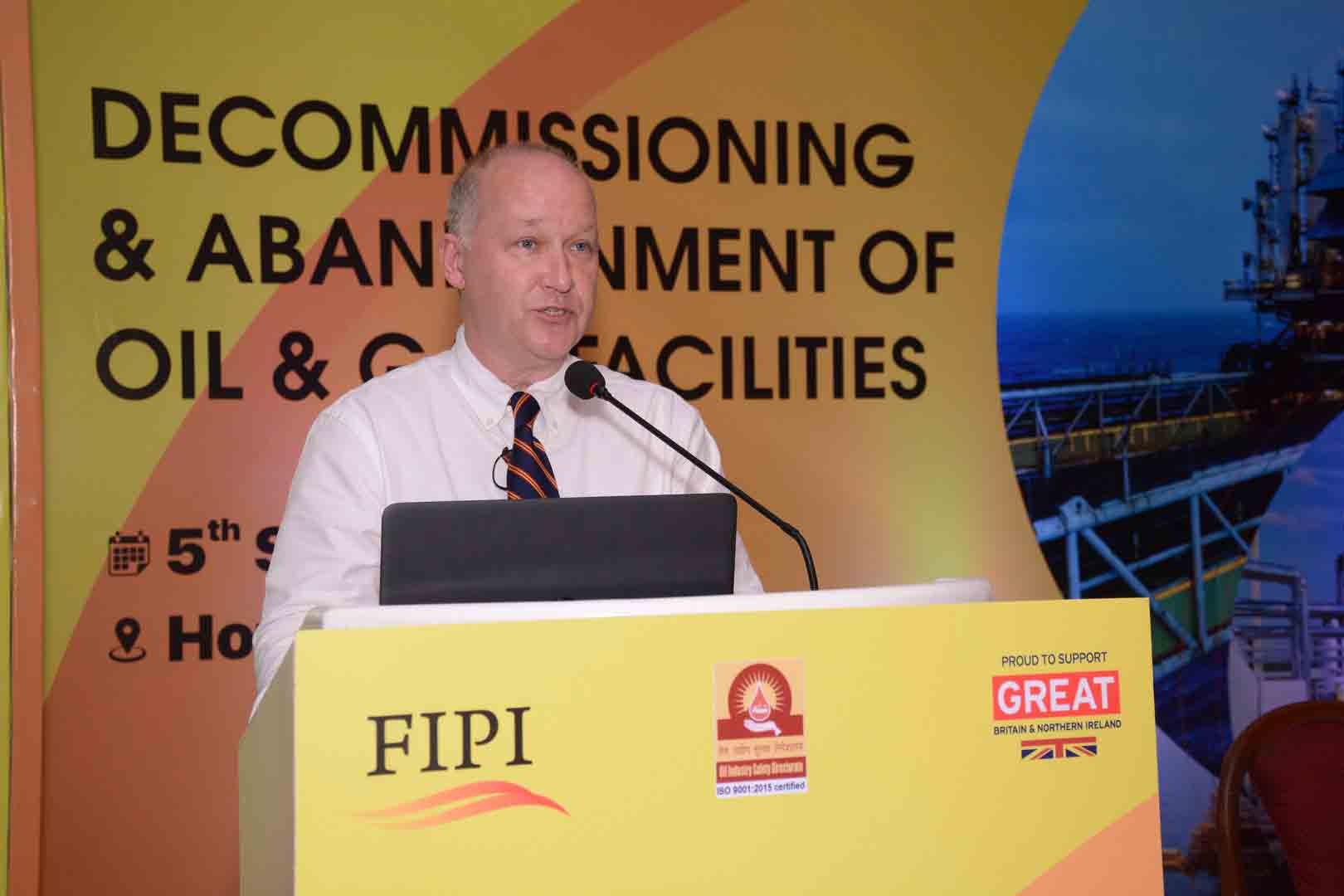 Mr Steve Gilbert, Global Director of Asset Management & Decommissioning, Lloyd's Register Group making his presentation on 'Ageing Oil & Gas infrastructure: decommissioning - are we prepared?'
9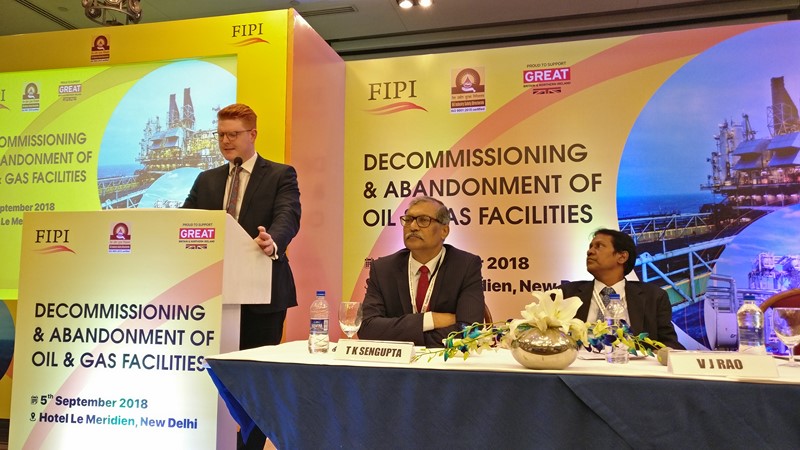 Vote of thanks delivered by Mr Andy Barr, First Secretary and Head of Trade & Investment, Department for International Trade, British High Commission, India
10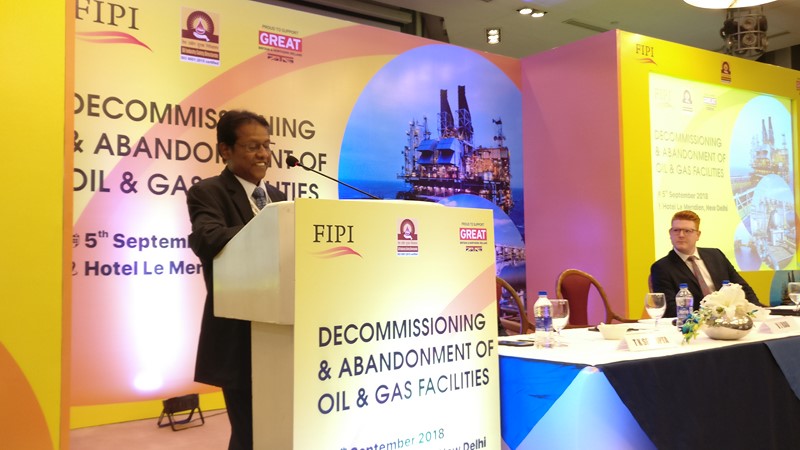 Mr V J Rao, Director, Oil Industry Safety Directorate (OISD) addressed the participants
11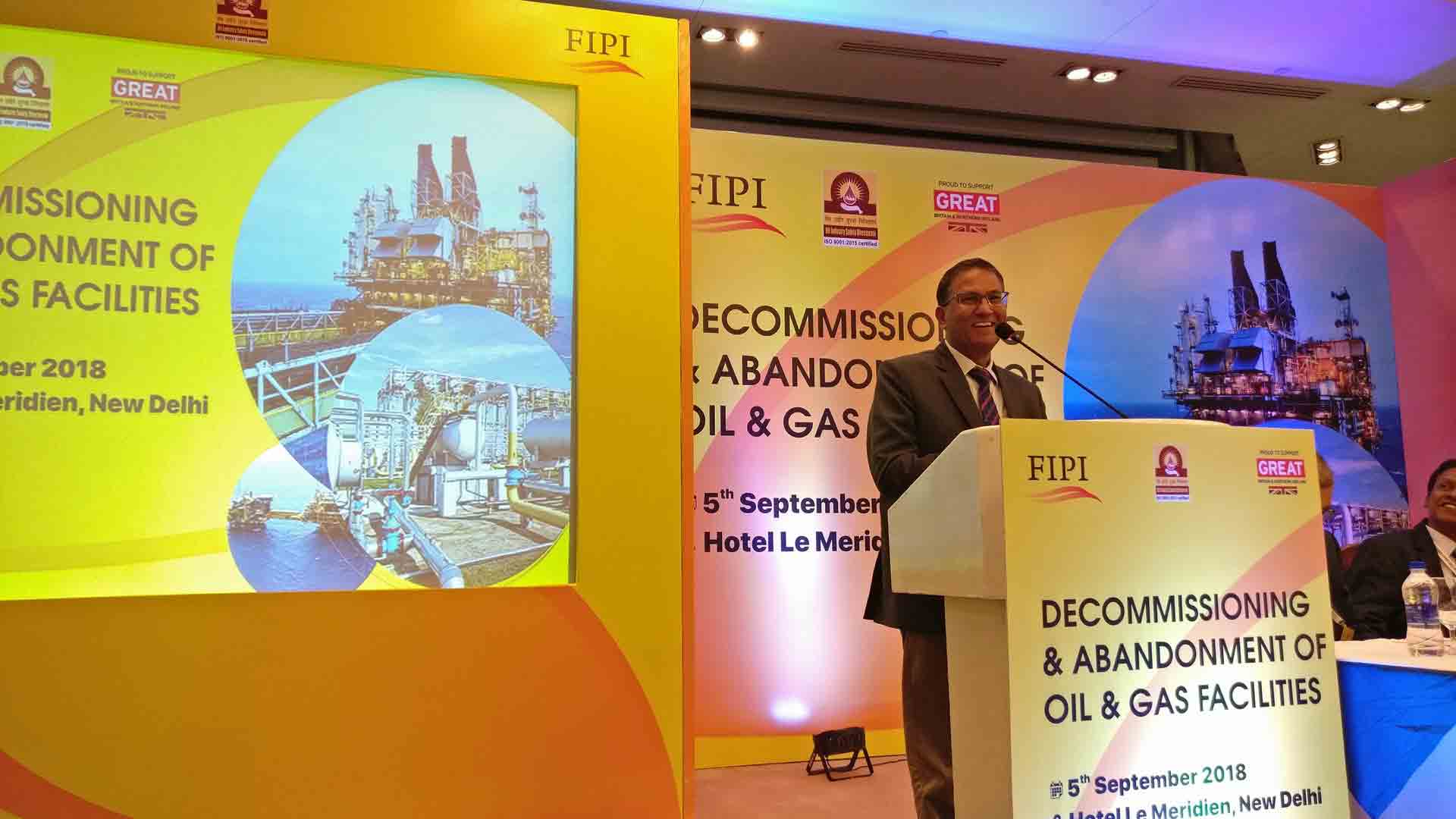 Address by Mr Amar Nath, Joint Secretary – Exploration, Ministry of Petroleum and Natural Gas
12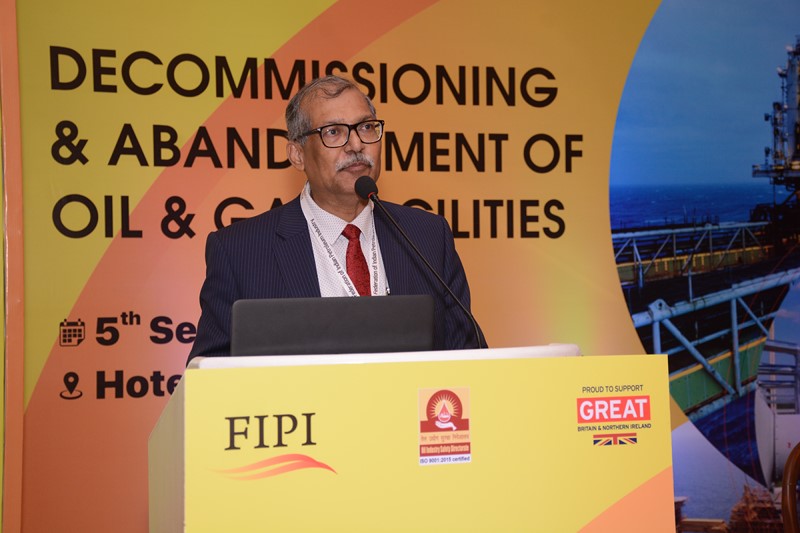 Mr. T. K. Sengupta, Director(E&P), FIPI welcoming the participants
13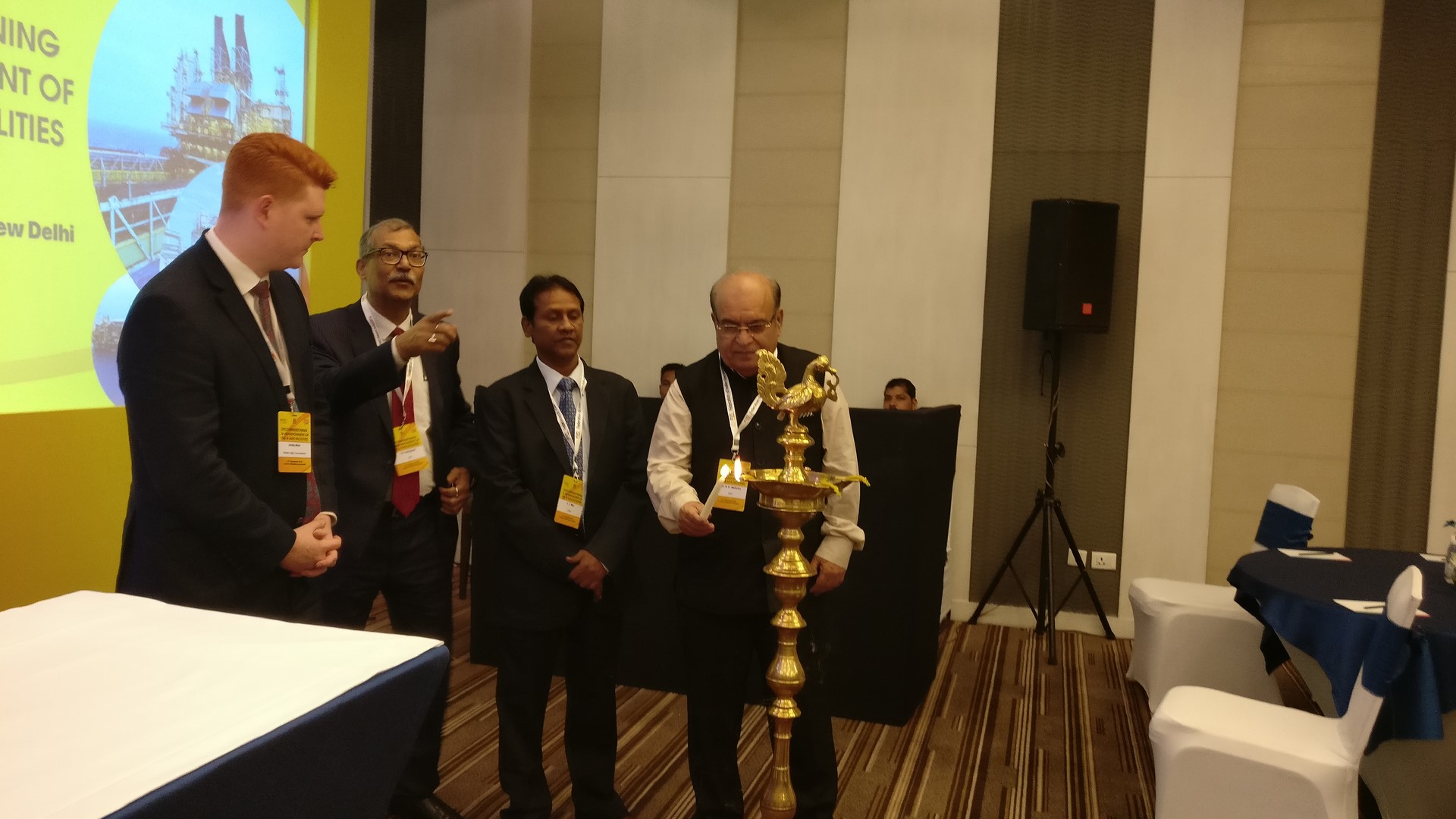 Previous
Next
05-September-2018
Workshop on Decommissioning and Abandonment of Oil & Gas Facilities
A workshop on Decommissioning and Abandonment of Oil & Gas Facilities was held on 5th September 2018 at Inspire Hall, Hotel Le-Meridien, New Delhi. Around 80-90 executives from Indian & International companies had attended the one-day program. The notable companies are ONGC, OVL, OIL, IOCL, RIL, SHELL, BP, CAIRN, PwC, BHC, PDi, Lloyd's Register, BHGE, McDermott, Oceaneering, DGH and OISD. The programme was organized by FIPI and supported by OISD and BHC.
Shri Amar Nath, Joint Secretary (Exploration) MoP&NG has inaugurated the workshop. In his opening remarks Mr. Amarnath congratulated FIPI for organizing this workshop on a relevant topic and creating a platform for knowledge sharing, deliberation and discussion in this important area. He mentioned the importance of environmental impact during decommissioning process and the responsibility of the operator to follow the Site restoration guidelines. He also mentioned that there is a need to assess the decommissioning & abandonment expenditure upfront & have a realistic estimate in the capital expenditure during FDP preparation.
While congratulating FIPI on the initiative to bring in various industry professional, companies and regulators together for a workshop on decommissioning, Sh. V. J. Rao, Executive Dirctor OISD explained the role of OISD as a regulator in Offshore E&P and the genesis of Site Restoration Guidelines. He also spoke about IMO regulations, various international guidelines, conventions etc and OISD standards related to well plug and abandon, demarcation of roles of DGH, DGMS & OISD and third-party certification of work done by the Operators within specified time limits. OISD has recently granted an in-principle approval to Tapti facilities of PMT JV and Reliance FPSO decommissioning is also underway. He ended the keynote address by wishing the workshop a grand success.
Shri T K Sengupta in his welcome address welcomed all the dignitaries and thanked JS(E) for his continuous support. He mentioned the genesis of this workshop and thanked the Upstream Committee of FIPI for supporting the idea of organizing such a workshop under the banner of FIPI. Tapti field decommissioning & abandonment was the guiding factor for selecting such a topic in the workshop which has held for the first time in India. He thanked both OISD & BHC for supporting the event in a big way.
Mr. Andrew Barr thanked delegates for their presence, OISD to support this workshop with all regulatory inputs & thanked FIPI for taking up this topic and for organizing such an effective workshop. As a policy person from BHC he has showed commitment of British High Commission on this subject by providing most of the speakers from UK based companies who are having experience of decommissioning in North Sea oil fields and also future funding for generating an Indian regulatory system based on UK experience.
There were Seven speakers in the day followed by a Panel Session.
In the first session there were three presentations made by Lloyd's Register, OISD & BHGE.
• In the first presentation Mr. Steve Gilbert of Lloyd's Register shared his experience of Decommissioning in North Sea/Asia Pacific etc. He said that in the next 10 years decommissioning is going to take place 349 fields in North Sea & a spending of $22 billion is expected. Simultaneously, Asia Pacific is expected to spend $ 30 billion on decommissioning areas in next 10 years. He perceived challenges/difficulties like technical, financial, social and environmental in all the D&A jobs. He opined that regulators, operators, industry bodies, supply chain people and environmental & safety people to work together with high level of coordination.

• In the second presentation Mr. D V Chandrasekhar from OISD brought out all the details of regulatory perspective of decommissioning and abandonment. He mentioned in great details the guidelines of plug and abandonment in wells, pipeline decommissioning, platform decommissioning etc. He also mentioned the importance of Site Restoration Fund and Site Abandonment Procedure prepared by DGH along with industry body.
• In the third presentation Mr. Andrew Livingstone from BHGE has talked about process for decommissioning and presented international case studies. He mentioned to change the approach and create SPV's for decommissioning for tax/cost benefit etc. He also brought out several D&A activities BHGE undertaken in Malaysia, Abu Dhabi, Norway, Mexico, Saudi, Iraq, Australia etc.

In the 2nd session there were four presentations by Shell, ONGC, Oceaneering & PDi.
• In the first presentation Mr. Rajagopal Mahalingam of Shell presented the Decommissioning of Tapti field in India and the company's collaborative journey with challenges & opportunities. Being the first Decommissioning project in India and evolving regulatory framework it has faced lot of issues like lack of matured supply chain in the process, non-availability of proper onshore yard, narrow working window due to monsoon etc. He brought out the fact that for such a new project mindset change, learning from other countries, collaborative approach and single window approval process is a must.

• In the second presentation Mr. S Karunanidhi of IEOT-ONGC talked about the decommissioning & relocation of offshore jackets. He mentioned that following all regulatory guidelines, existing structures can be removed and after refurbishment & strengthening existing structures can be reused elsewhere.

• The third presentation was made by Mr. Dirk Heseman from Oceaneering group. He brought out the technical & non-technical challenges which are unique in nature in decommissioning process.

• In the final presentation Ms. Steph Kiltie of PDi, spoke on the lessons learned from a decade of decommissioning on the UK continental shelf. She emphasized on lessons learnt for flexible riser decommissioning from an FPU in an offshore decommissioning process.
The panel discussion was participated by Mr. S K Moitra from ONGC, Mr. Steve Gilbert from Lloyd's Register, Mr. Sundar Iyer from OISD and Mr. Deepak Mahurkar from PwC as moderator. The panel discussed about the importance of decommissioning, the challenges, the difficulties, the environmental aspects, the expenditures, the rules & the regulatory guidelines both for wells & structures. Mr. Moitra showed his concern on this huge decommissioning work and mentioned that considering the no. of facilities and their age both in offshore and onshore, the decommissioning and abandonment process need to be structured to handle the challenges. Mr. Sundar, explaining the role of OISD spoke about availability of limited manpower in E&P at OISD and various tasks including safety audit of more than 600 assets in the country (with limited manpower in E&P) & role of OISD a regulator in Offshore area. He also spoke about demarcation of roles in Site restoration guidelines between OISD and DGMS with certain domain issues and change in legislations which could bring about alteration of roles in future as active debate is on about requirement and roles of various regulatory agencies in Petroleum Industry.
While answering a question in safeguarding of environment during the decommissioning process he mentioned that the EIA of the selected concept and the whole process including well Plug and abandon needs to be performed by mutual discussions and vetted finally by a third party. Lot of thought needs to go in at the time of planning of the project to have a safe decommissioning. Mr. Steve Gilbert of Lloyds register has mentioned that the National Governments must lead the way by establishing a comprehensive governance framework for Operators to follow and set up a single collaborative body. They must support this governance framework with strong institutions and the framework must ensure that the optimal use of public funds, the incentivisation of world class project design and execution and the promotion of value creating cooperation across the supply chain.
The programme was ended by a thanking note from Mr. T K Sengupta, FIPI. He mentioned that North Sea is a matured field w.r.t. decommissioning activities and India is in a nascent stage in this area. This is the time for Indian Industries to create more such common platform for knowledge sharing, discussion on specific issues, understanding the rules and regulation of North Sea activities, the technical challenges and the remedial measures. He urged BHC to take lead and arrange more meetings between regulatory and technical bodies both in India & UK to have smooth D&A activities in India in future.
The Workshop received a high level of appreciation from the participants.