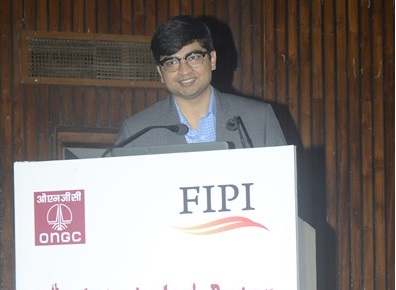 Mr. Ankit Gupta, Deputy Director (Gas), FIPI delivering the welcome address
1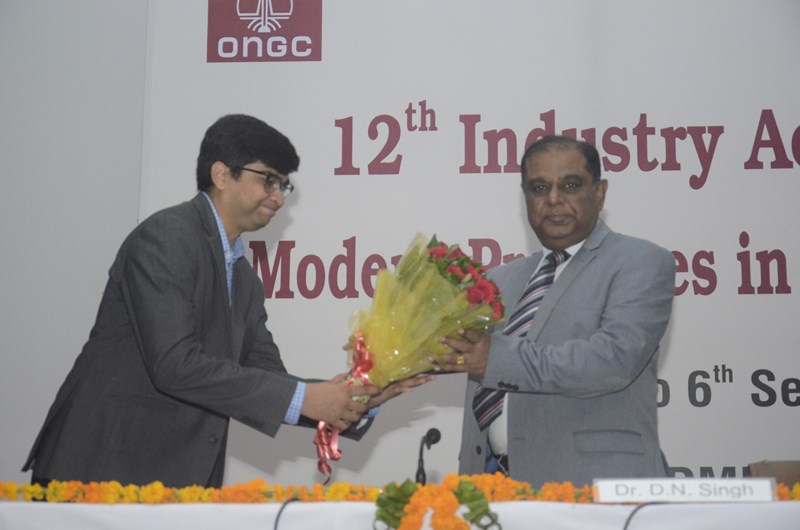 Dr. D. N. Singh, HOI, KDMIPE, ONGC being greeted by Mr. Ankit Gupta, Deputy Director (Gas), FIPI with a bouquet of flowers.
2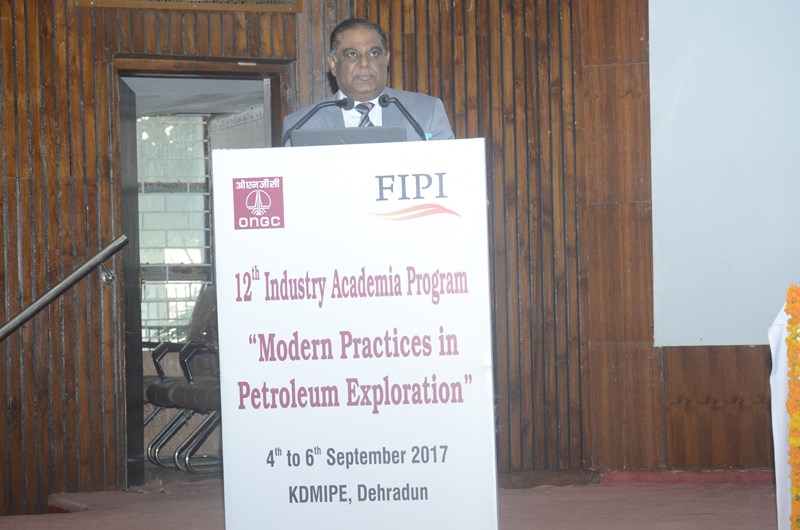 Dr. D.N.Singh delivering the Inaugural address.
3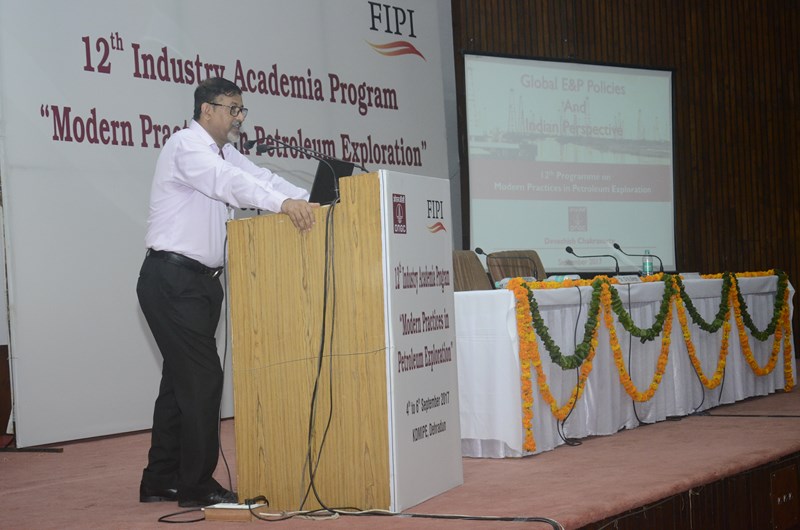 Mr. Devashish Chakrabarty, GM (Geology), E&D Directorate speaking on 'Global E&P Policies and Indian Perspective'.
4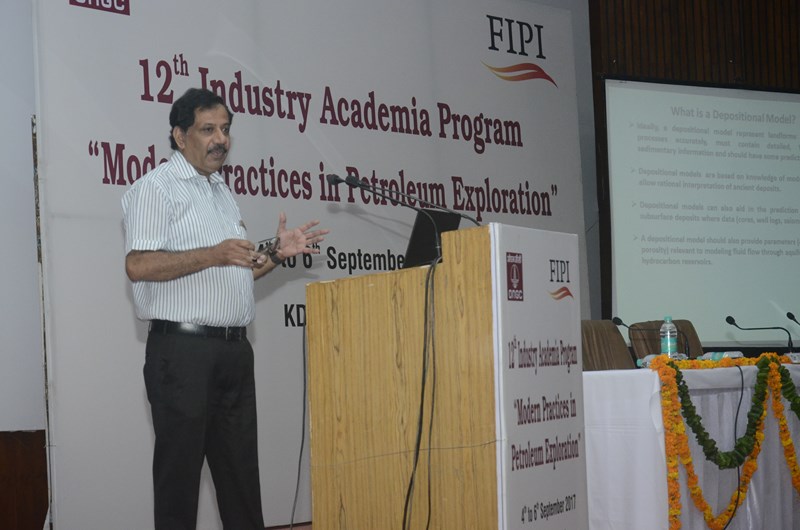 Mr. S. Uppal, DGM (Geology), KDMIPE; delivering the presentation on 'Depositional model through modern techniques in Hydrocarbon Exploration'.
5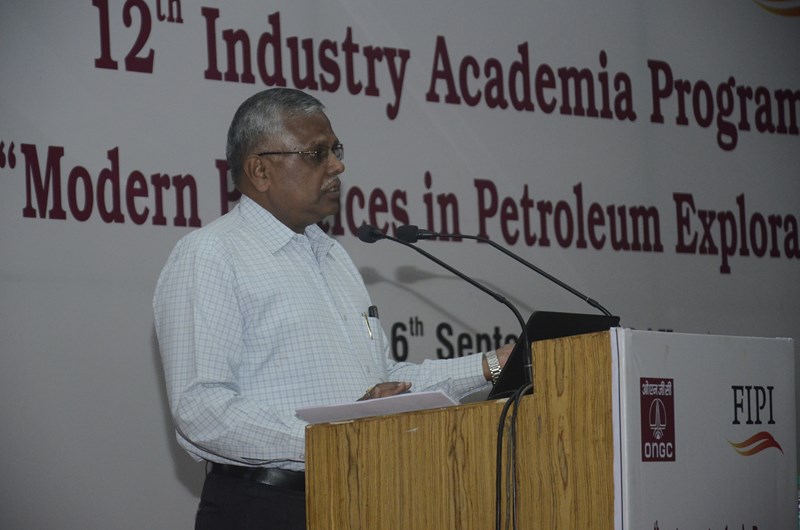 Mr. P.K. Dubey, DGM(D), IDT; delivering the presentation on 'Emerging trends in Drilling Technology - A perspective'.
6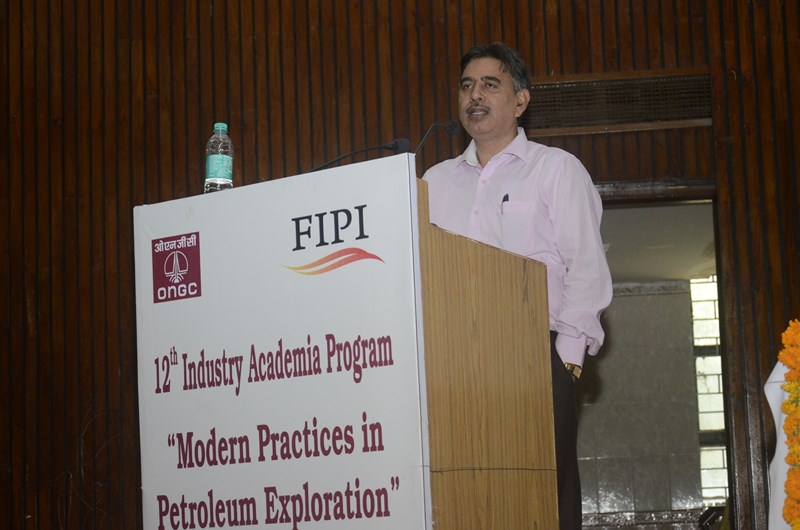 Mr. Dhruvendra Singh, GM (Geology), GEOPIC; delivering on 'Interactive Interpretation Processes for risk mitigation in Petroleum Exploration'.
7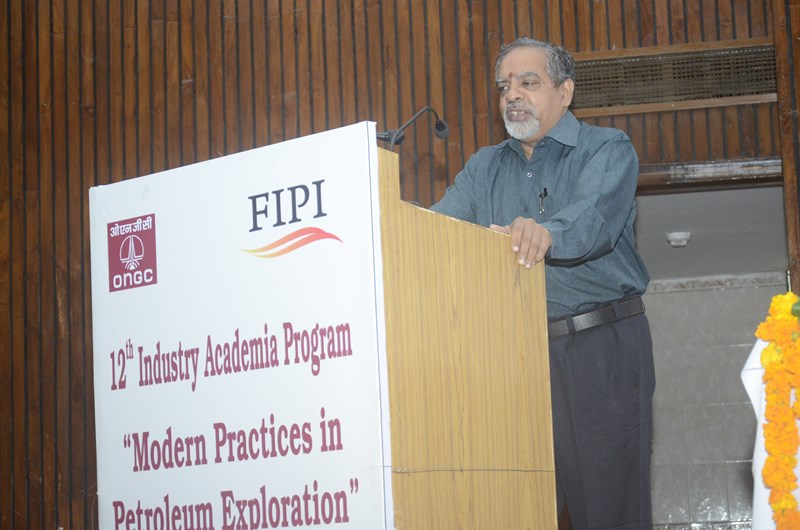 Mr. J.N. PrabhaKarudu, DGM(GP), KDMIPE; sharing his presentation on 'The New Frontier: Exploring for Hydrocarbons with Gravity and Magnetics'
8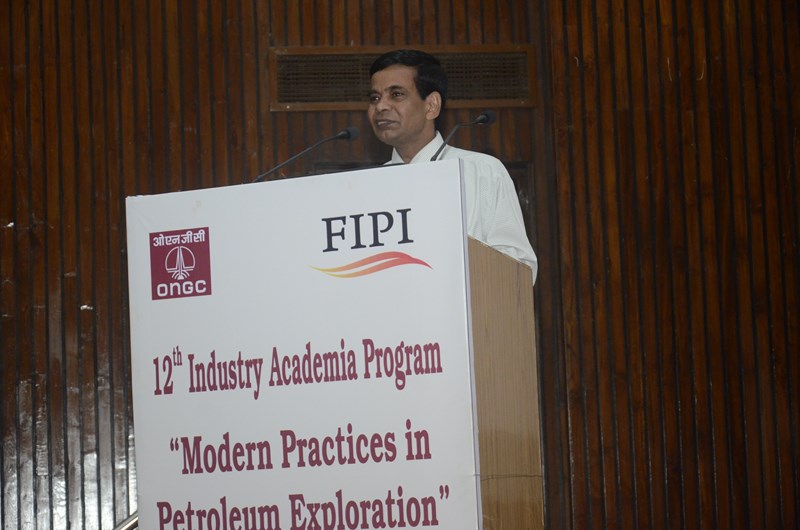 Mr. S. Pahari, DGM (Chemistry), KDMIPE; speaking on 'Geochemical techniques for hydrocarbon charge risk assessment for effective petroleum exploration'.
9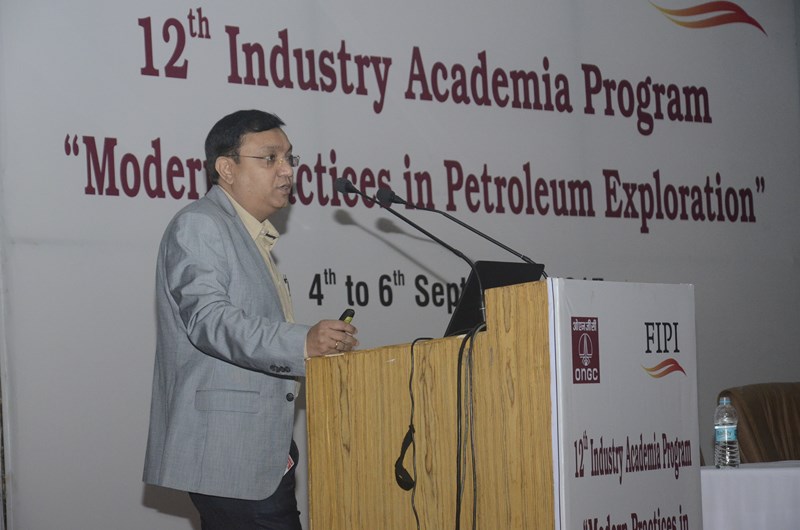 Mr. D. K. Phaye, C.G. – KDMIPE; delivering on 'Basin and Petroleum System Modeling'.
10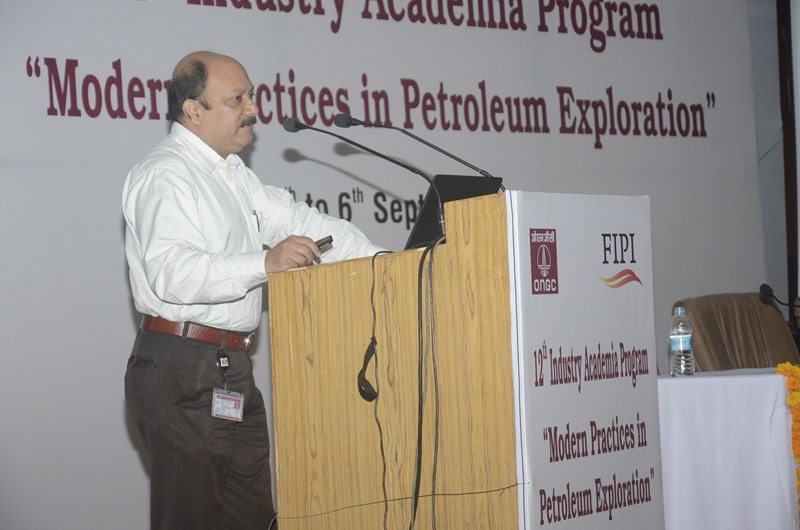 Mr. Santanu Mukherjee, DGM (Geology), Frontier Basin; speaking on 'An overview of unconventional tight gas plays in Sone Valley, Vindhyan Basin'.
11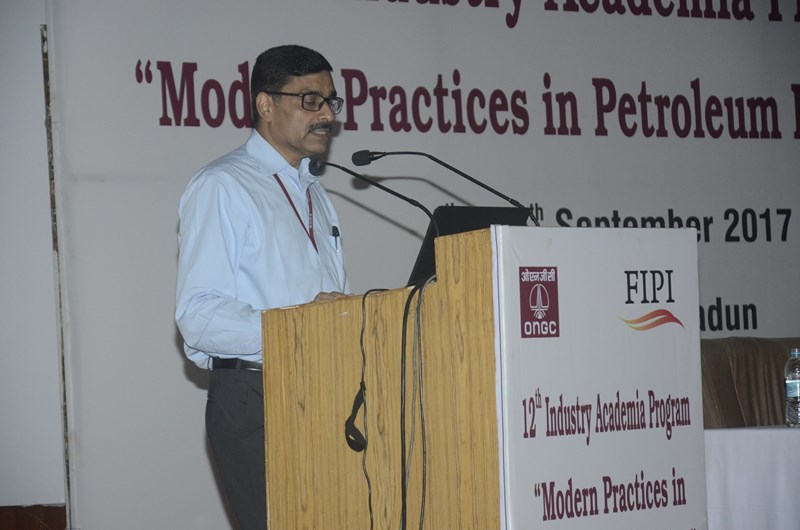 Mr. Deepak Kapoor, DGM (W), KDMIPE; speaking on 'Modern Trends in Well Logging'.
12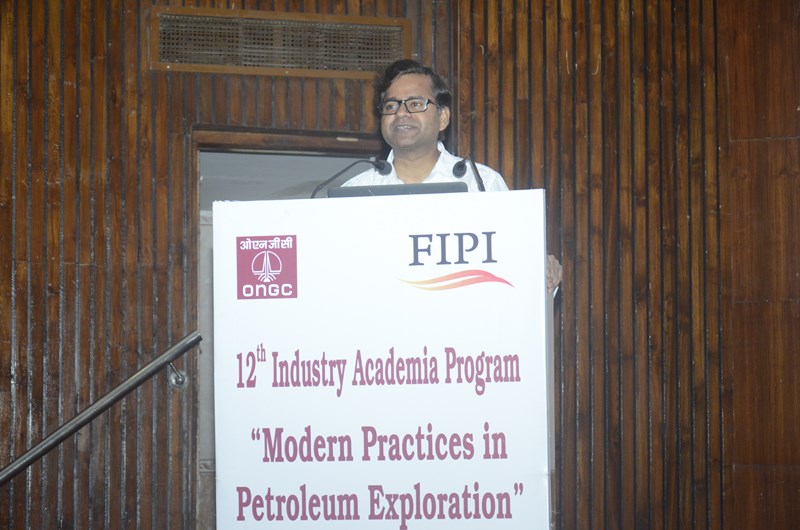 Dr. Ashish Mishra, Sr. Geologist, KDMIPE; delivering on 'Methods of Geospatial data synthesis for hydrocarbon exploration'.
13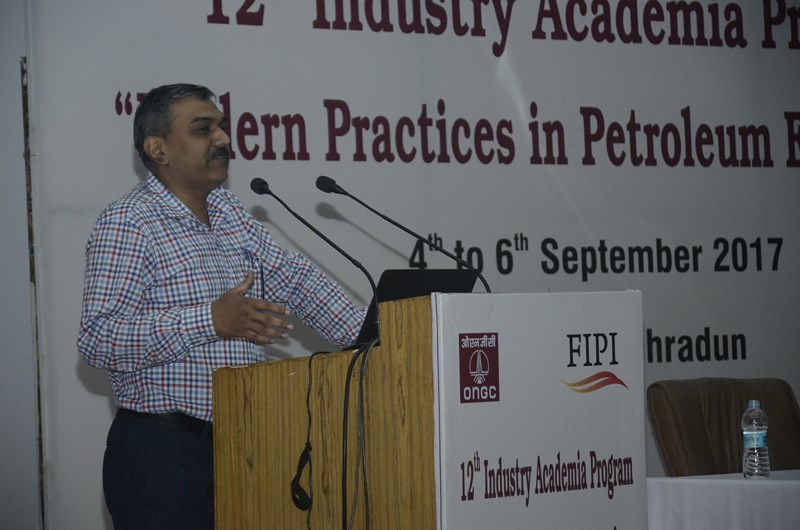 Mr. Sushil Kumar, S.G, KDMIPE; delivering on 'Mitigating Exploration risk through structural modeling'.
Previous
Next
04-06-September-2017
12th Program on 'Modern Practices in Petroleum Exploration'
Federation of Indian Petroleum Industry organized 12th Program on 'Modern Practices in Petroleum Exploration in association with Keshava Deva Malaviya Institute of Petroleum Exploration (KDMIPE), ONGC from September 04 – 06, 2017 at Dehradun.
The objective of organizing this Industry – Academia Workshop is to have a two-way interaction between practicing managers and the learned faculty of academic institutions on Exploration and Petroleum Industry and to enrich knowledge on both the sides.
The programme was conducted by experts from ONGC and designed for the teaching faculty of Engineering Colleges, Universities, Industry members as well as students from institutes to make them aware of the developments happening in the oil and gas arena. Around 35 participants from various educational institutes as well as industry attended the programme.
The topics covered during the program include global E&P policies, technologies in drilling, geology, geochemistry etc.