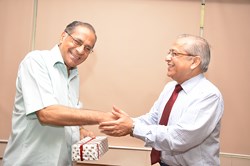 Shri A. K. Arora proposing a memento to Prof. B.B. Bhattacharya.
1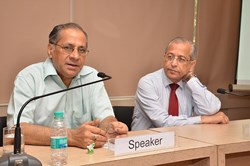 Prof. B.B. Bhattacharya replying to a query.
2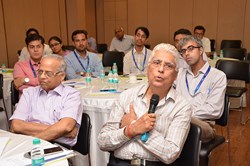 Shri Suresh Mathur, Former CEO & MD Petronet LNG Ltd. raising a query.
3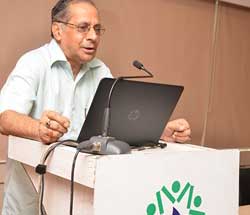 Prof. B.B. Bhattacharya making his presentation.
4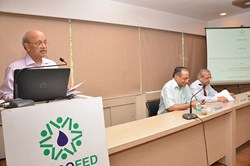 Shri Y. Sahai, Director (Comm. & Mktg.) welcoming participants and introducing the speaker.
5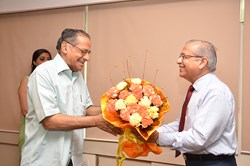 Shri A.K. Arora, Director General, PetroFed welcoming Prof. B.B. Bhattacharya, former Vice Chancellor, Jawaharlal Nehru University..
Previous
Next
14-August-2015
Indian Economy in Global Perspective
Despite several positives like political stability and a pro-business government there was stagnation in manufacturing output. Stating this, Prof. B.B. Bhattacharya, listed some of the unfavourable outlooks and critical issues while addressing an invited audience in PetroFed's continuing series of Guest Lectures and Thought Leadership programmes on 'Indian Economy in the Current Global Perspective' on August 14, 2015 at New Delhi.
He pointed out that lack of political consensus on key policy issues like GST, Land Bill, Labour Policy and Agricultural Subsidy was acting as a dampner on the growth outlook. This was coupled with global slowdown in trade and slow employment growth.
An eminent economist and educationist Prof. B.B. Bhattacharya has been the Vice Chancellor of Jawaharlal Nehru University (JNU).
In an extended Q&A session, he patiently interacted with the industry members present on issues concerning not only the subject of his lecture but also on economic planning and forecasting.
Click here to view Biodata and presentations