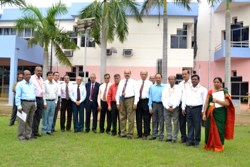 Group photo during the tree planting ceremony.
1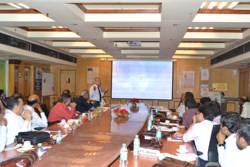 Sh. A. K. Arora, Director General, PetroFed addressing the participants.
2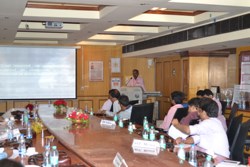 3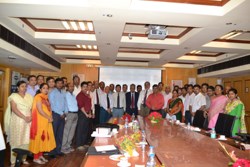 4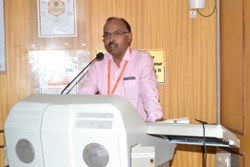 Sh. G.J. Tyagarag, GM(HR), Haldia Refinery welcoming the participants.
Previous
Next
17-18-April-2015
Industry Academia Interface at Haldia on Health, Safety and Environment
The importance of health, safety and environmental (HSE) issues in the hydrocarbon industry has grown manifold with increasing regulatory oversight and public scrutiny. Companies need to implement effective measures and management systems in these areas to protect their workers, the general public and the environment.
In this backdrop, to discuss and share the experience of industry professionals with the academia, the Petroleum Federation of India organized a workshop on 'Safety Health and Environmental Management in Hydrocarbon Industry' in association with Indian Oil Corporation Ltd.( Haldia Refinery), the Oil Industry Safety Directorate (OISD) & Lovraj Kumar Memorial Trust (LKMT) from April 17-19,2015 at the IndianOil Management Academy, Haldia, West Bengal.
The programme was conducted by experts from the industry and OISD and was intended for the teaching faculty of the Engineering Colleges and Universities. Twenty three participants from nine educational Institutes participated in the programme which included a site visit to the refinery.
Inaugurating the workshop Shri S.N.Jha, former Director (P/L), IOCL & former President, IOTL shared his vast knowledge & experience in the field of Safety & Environment and gave several examples linking theoretical knowledge with his applied practical experience.
Earlier, Shri A.C. Mishra, ED (IC), Haldia Refinery while welcoming participants emphasized on the importance of HSE and occupational health of employees in a refinery. He further emphasized on process safety and thanked PetroFed for organizing such programmes for enhancing knowledge of teaching faculty.
Addressing the august gathering during the inaugural session, Shri A. K. Arora Director General, Petroleum Federation of India began by saluting the 'gurus' and went on to add that such Industry-Academia programmes provided an excellent platform for exchange of knowledge,sharing of experience and exposure to technology at work. Such programmes benefit both, the academic institutions and the industry, he added.
Shri Hirak Dutta,ED,OISD in his address focused on the reliability and integrity of plant & machinery to deliver sustained operations with sharper focus on safety & environment.
Shri H.P. Sahi, ED (Eastern Region), IOCL Pipelines in his address covered the key aspects of safety in pipelines operation and maintenance.
Shri A.P. Gangopadhyay, ED (Haldia Refinery) proposed a vote of thanks at the Inaugural Session.
Shri S L Das, Director (BD&C), PetroFed highlighted the utility of such workshops and hoped that they would help prepare students better before they step into the world of industry. He profusely thanked Haldia Refinery for facilitating and hosting this programme.
Click here to view programme and presentations