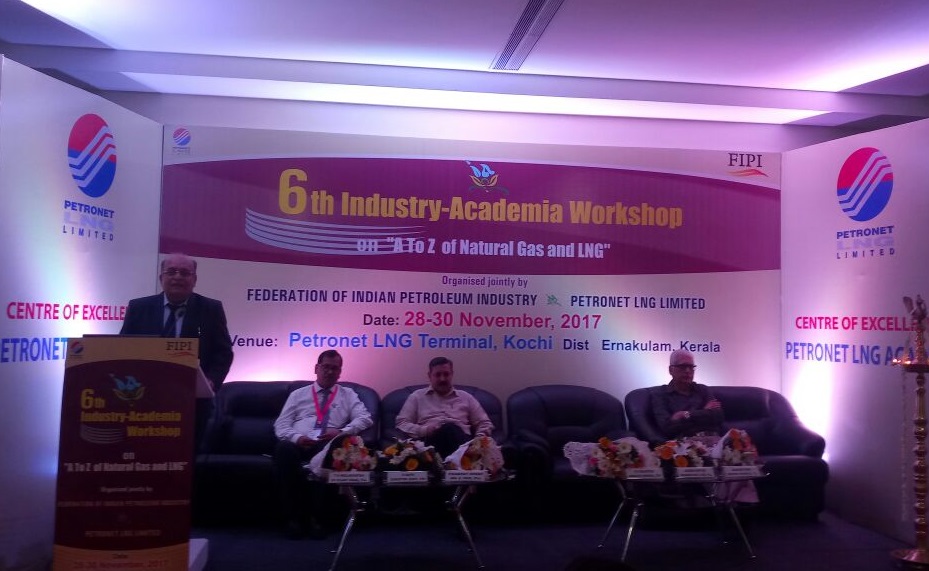 Dr. R K Malhotra, Director General, FIPI addressing the participants.
1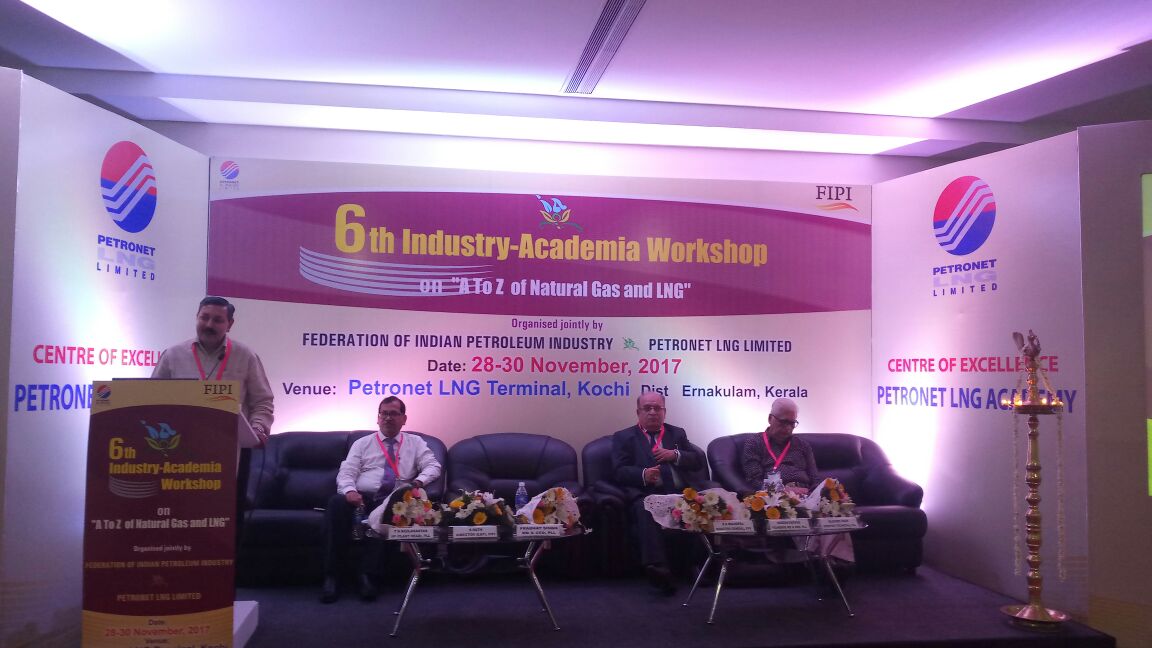 Mr. Prabhat Singh, MD & CEO, Petronet LNG Ltd giving the inaugural address
2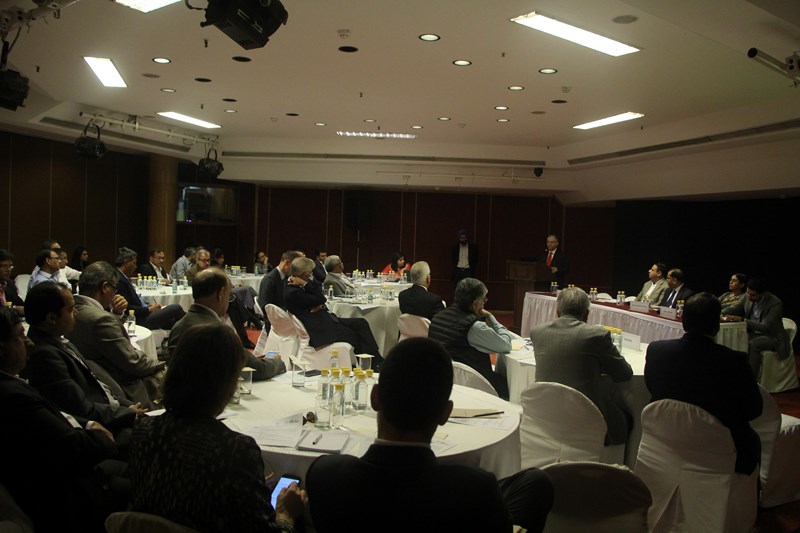 A section of participants.
3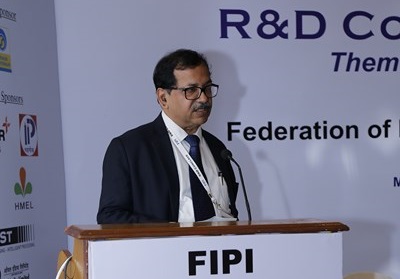 Mr. S. Rath, Director (E&P), FIPI delivering the presentation on 'Oil & Gas Scenario: Global and India'.
4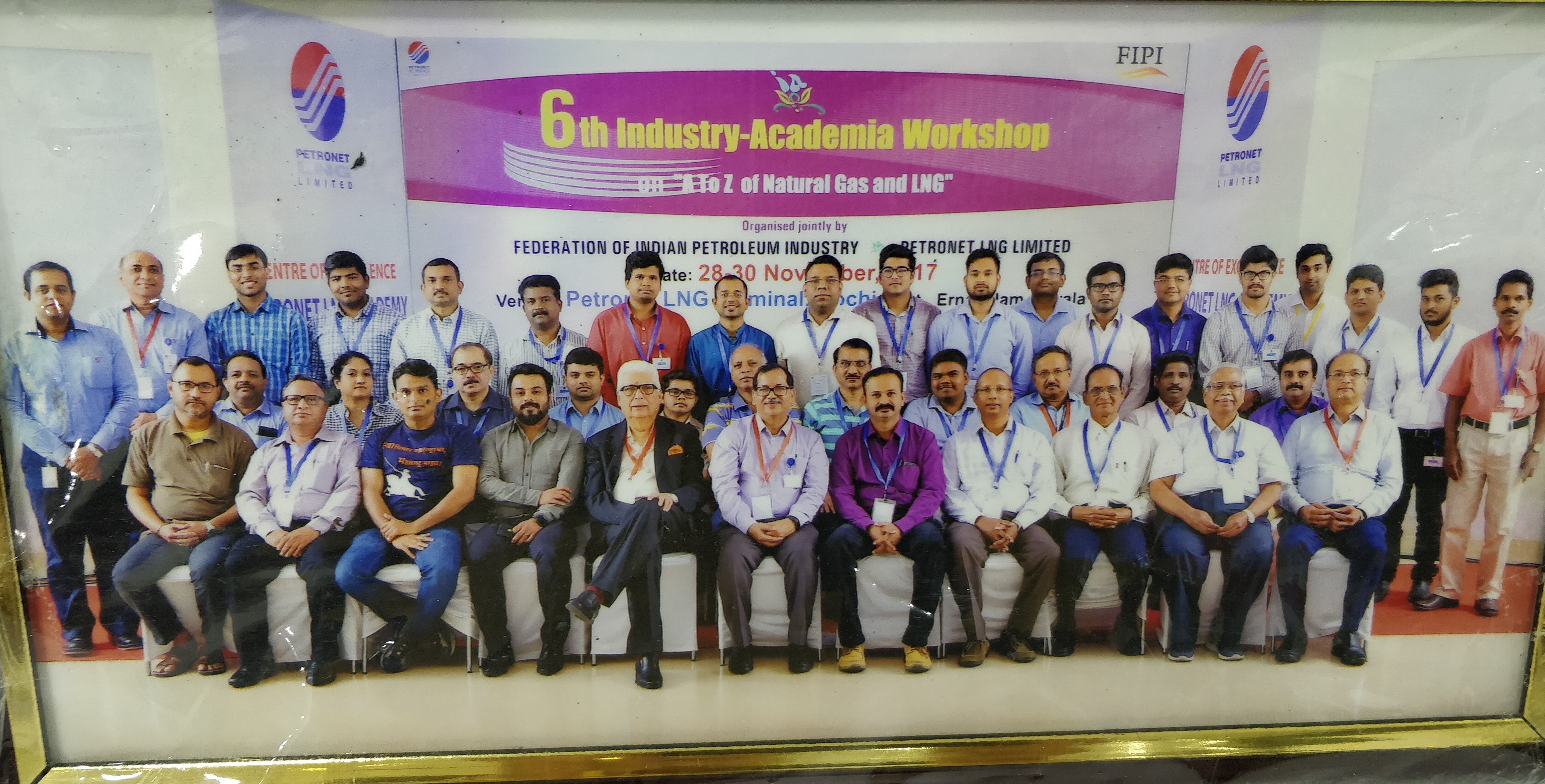 Previous
Next
21-November-2017
Fuel Quality Workshop on Moving Towards High Quality Requirements in India: Beyond 2020 on November 21, 2017
Federation of Indian Petroleum Industry in collaboration with Petronet LNG Ltd organized a residential Workshop on 'A to Z of Natural Gas and LNG' from 28th-30th November 2017 at Petronet LNG Terminal, Kochi which is 6th in series & 2nd at Kochi. The program was conducted by experts from the industry and designed for the teaching faculty of Engineering Colleges, Universities and Industry managers.
The workshop was attended by 41 participants, which consists of 12 faculty from academic institutions viz. Jawaharlal Nehru Technological University, Kakinada, NIT Warangal, IIT Madras, College of Engineering Trivandrum and School of Engineering CUSAT, Kochi and 29 executives from major oil and gas companies like ONGC, Oil India, GAIL (India) Ltd , BPCL, HPCL, Essar Oil Ltd and KEI-RSOS Petroleum & Energy Ltd.
In the inaugural Session, Mr Hemant Bahura, GM (HR & Admin), PLL welcomed the august gathering and briefed about the workshop and its objectives. The workshop was inaugurated by Mr. Prabhat Singh, MD & CEO, Petronet LNG. In his address he mentioned the growth story of LNG imports in India and the role PLL is playing in this value chain. He highlighted the efforts PLL is making in making LNG as a mainstream fuel by introducing LNG bus and working towards development of LNG corridors for heavy duty vehicles. He also asked the participant for out of the box ideas for LNG supply vessels worldwide to be connected to a platform and the travel time, in line with Uber, Ola etc.
Dr R K Malhotra, Director General, FIPI addressed the gathering. In his address he mentioned that the worldwide average of natural gas consumption is around 24% of primary energy mix and India stands pretty low with share of natural gas at 6.2% in the year 2016. LNG imports have increased significantly from 11.8 BCM in year 2009-10 to 24.7 BCM in 2016-17, making India as the 4th largest LNG importer in 2016. India has targets to increase its natural gas pipelines infrastructure from existing 17,000 km and capacity of around 430 MMSCMD to 31,000 km with a design capacity of 782 MMSCMD by end of 2022 with a nationwide gas grid and more uniformed pipeline network coverage in place. With such growth figures, the need & development of regasification infrastructure in India is a must which will act as a key link for flow of natural gas to growing energy demand in India.
Mr S Rath, Director (E&P) proposed vote of thanks on the occasion and thanked PLL for their continued co-operation.
The workshop had ten lectures during nine sessions and a half day visit to Petronet LNG's Kochi Terminal for the participants. Since the theme of the program was A to Z, every topic pertaining to LNG was touched upon by the industry experts during their lectures.
Mr Suresh Mathur, Founding CEO &MD chaired the Valedictory Session and the panelists were Mr R. Singh, Director (Tech) PLL, Mr T. N. Neelakantan, VP & Plant Head Kochi Terminal and Mr S. Rath, Director (E&P) FIPI. Shri Mathur shared his experience of starting PLL from scratch to commission and the leadership role played by his team. At the end there was a feedback session.
The feedback of participants was excellent. Few of the suggestion are given below for consideration while finalizing the contact for next workshop.
• To incorporate a module on pricing of LNG (commercial aspects)
• FIPI to arrange specialized lecture on Design of LNG tanks, the process of course of LNG in Engineering Collages.